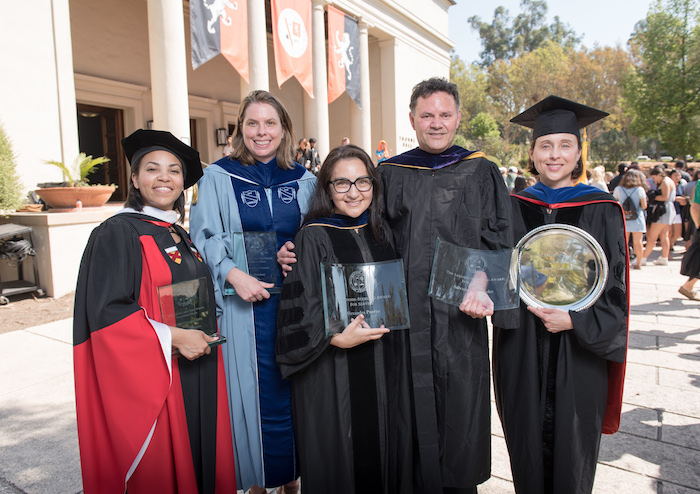 Five Occidental College professors were honored for exceptional teaching, scholarship and service August 29 as the Class of 2021 was formally welcomed to the Oxy community at the College's 123rd annual Convocation ceremony.
History Professor Sharla Fett was awarded the prestigious Graham L. Sterling Memorial Award, established in 1972 to recognize a faculty member with a distinguished record of teaching, service and professional achievement. Associate Professor of Philosophy Clair Morrissey and Assistant Professor of Sociology Krystale Littlejohn '07 both received the Linda and Tod White Teaching Prize, based on student nominations and presented since 2008.
Associate Professor of History Alexandra Puerto and Professor of Spanish and French Studies Salvador Fernandez both were presented with the Janosik-Sterling Award for Service to the College, created in 1993 to honor the memory of Politics Professor Robert Janosik.
Fett was praised as a major contributor to the College as a nationally known scholar of African-American history, an outstanding and innovative teacher, and an effective leader dedicated to sustaining the College's fundamental values.
Winner of one of the most prestigious awards in the field of U.S. history, the James A. Rawley Prize from the Organization of American Historians, for her book Working Cures: Healing, Health and Power on Southern Slave Plantations, Fett's teaching spans a wide range of issues that include American colonization, racial formation, comparative slavery, and medical history in classes that range from first-year seminars to senior comprehensive projects. 
A tireless advocate for Oxy's African-American studies programs, she has been instrumental in the development of the Autry internship program, the Billington Student Research Fellowship, and the Institute for the Study of Los Angeles, noted Dean of the College Wendy Sternberg in presenting the award.
"As your colleagues say, you are 'an influential and invaluable force in our community who stands as a model teacher-scholar. You strengthen the intellectual vitality, academic excellence and service goals of the College in inspired ways,'" Sternberg said.
Littlejohn, one of the winners of the White Teaching Prize, was a sociology and Spanish double major at Occidental who earned her Ph.D. at Stanford and returned to Oxy in 2013 as a member of the faculty. She teaches and writes about family, health, gender, race and ethnicity, and social demography.
One student's nomination called Littlejohn "an exceptionally capable educator, assiduous mentor, and unwavering advocate for student achievement. Both professionally and personally, she embodies the bedrock principles guiding the college's mission: that every student, regardless of background, deserves to rise to the level of their ability and ambition."
Another student described how "I had begun to wonder if enrolling had been a mistake. I didn't understand the college, and judging by my initial interactions with students and faculty, it didn't understand me. Professor Littlejohn changed my mind."
Morrissey, the second White Teaching Prize recipient, joined Occidental in 2010 after earning her Ph.D. at the University of North Carolina, Chapel Hill. She teaches and writes about practical ethics, philosophy of law, biomedical ethics, environmental ethics, and the philosophy of race and gender.
In nominating Morrissey, one student said, "While I was challenged, I never felt left behind, and I was always encouraged to dispute authors' claims based on my own observations and intuition. I think it is a difficult balance in teaching philosophy to push students beyond their own thoughts, while insisting that their voices and beliefs are important. Morrissey does this, and I am a much better student for it."
Another student wrote that Morrissey's "teaching insights transcend the classroom and graduation; they stick with you for life and influence the way you see the world. She encourages her students to work hard, learn as much as they can, and shape their own futures."
Sternberg singled out Janosik-Sterling Award winner Fernandez for his "exemplary 25-year record of service that is broad in scope, extended the mission of the College, and has had a profound and lasting impact on the life of the College." Particularly noteworthy, she said, has been his participation in the Multicultural Summer Institute, and his mentoring of students throughout their Oxy years and even beyond graduation.
"At the same time, you have been a tremendous source of support and encouragement for non-tenure-track faculty," Sternberg continued. "To a significant degree, your colleagues say your warm, caring personality and great sense of humor have played a major role in defining the culture of the department. It's no wonder that they call you 'an extraordinary colleague, a paragon of collegiality and fair play, and a model citizen.'"
Sternberg praised Janosik-Sterling winner Puerto for her leadership role on search committees for key positions on campus, as well as her service on the Academic Planning Committee, the Advisory Council, the national and international fellowships committee, and the advisory committees for the Urban and Environmental Planning Institute and the Community Health program.
Puerto was also a founding member of the Latino and Latin American Studies Program as well as the Institute for the Study of Los Angeles. She has been responsible for recruiting and mentoring scores of candidates for national awards and fellowships; organizing a number of successful interdisciplinary campuswide events that have enhanced the intellectual life of the College; and helping to expand the College's partnerships with the local community.
"According to your colleagues, you 'truly exemplify the model of a committed, energetic Occidental faculty member, providing leadership in many areas of campus intellectual life, promoting the overall development of our students, and serving the College in exemplary ways,'" Sternberg said.