The Emmys are the first for Assistant Professor of Music Adam Schoenberg, who composed the score, and the second for Professor of Practice Christopher Hawthorne, who directed and served as the executive producer of the documentary.
The hour-long documentary, which aired on KCET/PBS, explores the period Wright spent in Southern California in the late 1910s and early 1920s, searching for an authentic Los Angeles architecture suitable for the city's culture and landscape.
Hawthorne, the city of Los Angeles' first-ever chief design officer and former architecture critic for the Los Angeles Times, explores the houses the legendary architect built in Los Angeles as well as Hawthorne's provocative theory that these homes also represented an artistic catharsis for Wright, who was recovering from a tragic violent episode in his life.
"If these houses -- daring, flawed, resistant to easy analysis -- were located near Wright's other residential masterpieces in the Midwest, it's likely they would have already launched several documentaries and dozens of dissertations. Somehow they've managed to hide in plain sight in Los Angeles for nearly a century," Hawthorne says.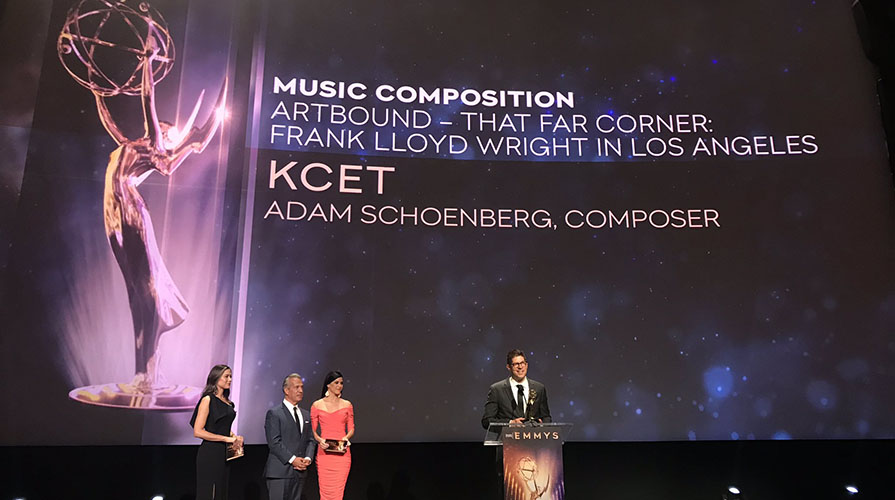 Growing up, Schoenberg originally contemplated a career as an architect before ultimately turning toward music. "Both fields are deeply connected to structure and form, and composers are constantly thinking about the overall architecture and building of a piece," he says. "I have always admired Frank Lloyd Wright's work, but knew very little about the homes he built here in Los Angeles. This was an extraordinarily rewarding project to work on, and I'm grateful to Christopher Hawthorne and KCET/PBS for bringing me on board."
While this is Schoenberg's first Emmy win, it isn't his first award nomination. Last year, his "Picture Studies" was nominated for a Grammy in the Best Contemporary Classical Composition category.
"It's an honor and a surprise to win an Emmy for this program -- and all the sweeter given that Adam also received an award for composition, for music that deepened and enriched the narrative in a number of ways," adds Hawthorne, who won an L.A. Emmy in 2017 as the executive producer of another KCET/PBS documentary, Third L.A. with Architecture Critic Christopher Hawthorne.