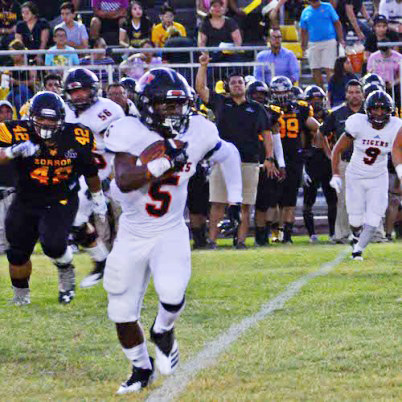 Nearly one year after its season was cut short due to a depleted roster, Occidental's football team scrapped its way to a 20-0 season-opening win over CETYS University in Mexicali, Mexico, on September 1. 
The Tigers' season debut—the first time an American team had travelled to Mexico to play the CETYS Zorros on their home turf—was the product not just of a long bus ride but a months-long effort to overcome adversity and get back on the field.
Junior quarterback Joshua Greaves, an economics major from Granada Hills, threw for a pair of touchdowns. The Tigers' defense hit hard in the first half, forcing a handful of fumbles and snagging three interceptions. (A fourth interception came in the fourth quarter.)
The Tigers opened up a 13-0 lead with a pair of scores early in the first quarter. Greaves found first-year running back Ezekiel Ebieshuwa of Lynn, Mass., on a screen pass from 15 yards out for Oxy's first touchdown. D.J. Adams '22 of Gramercy, La., took a reverse 22 yards for Oxy's second score.
In the fourth quarter, Greaves threw his second touchdown pass to first-year back Seth Holston of Houlton, Maine, for an 18-yard score down the seam. Oxy held on comfortably for its first shutout of an opponent since a 30-0 victory over La Verne in 2010.
Second-year coach Rob Cushman's Tigers return to Jack Kemp Stadium on September 15 for their home-season opener against the Willamette University Bearcats at 12 noon.