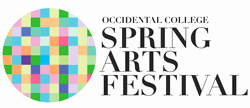 Multimedia-performance art, new classical and jazz music, and a comic remake of an ancient Greek play are just some of the events on tap for Occidental College's Spring Arts Festival, April 20-22.
Other Spring Arts Festival events include an alumni arts exhibition, student-made documentaries, and concerts by the Oxy-Caltech symphony orchestra with award-winning violinist Danielle Belen. For the full line-up, go here.
On April 20, the festival will be held in conjunction with Founders Day, which celebrates Oxy's 125th anniversary with activities such as an 1887-themed carnival and panel discussions by notable alumni on Hollywood, Wall Street after the financial crisis, and digital entrepreneurship.
This will be Oxy's third annual Spring Arts Festival. The idea for the event sprang from Occidental President Jonathan Veitch's call for the College to better reflect Los Angeles' vibrant cultural environment.
"Los Angeles is a city of artistic ferment, and Occidental should and will contribute to that ferment by engaging its extraordinary writers, dancers, choreographers, painters, sculptors, composers, actors and directors," Veitch said in his October 2009 inaugural address.
All Spring Arts Festival events are free and open to the public unless otherwise indicated. Occidental College is located at 1600 Campus Road, Los Angeles, 90041. For directions to the College, go here. Free parking is available in visitor parking lots and on nearby streets.
Festival funding has been provided by Occidental's Remsen Bird Fund.