Submitted by kwall_admin on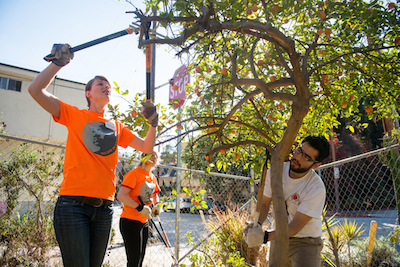 Occidental College once again has been named to the President's Higher Education Community Service Honor Roll for exemplary interfaith/community service efforts. 
Selection to the Honor Roll recognizes the College's commitment to service and civic engagement on its campus and in the nation. 
In 2013-14, over 1,000 Occidental students -- more than half of the student population -- contributed more than 42,000 hours of service in areas including math and reading tutoring, providing food to the hungry and art appreciation.
"The President's Honor Roll is a significant recognition of Occidental's work in community engagement," said Ella Turenne, Occidental's assistant dean for community engagement. "As a campus that has been committed to this work in deep ways for decades, it is wonderful to be honored in this way on a national level. It is also a strong testament to the collaborative nature of the work across many offices on campus." 
Occidental offers an array of curricular and co-curricular civic and community engagement projects. Each semester, a minimum of 20 community-based learning (CBL) classes are offered; half of all students take at least one CBL course while here. In addition, almost half of all students participate in service learning and community service.  
Co-curricular activities that focus on community engagement include the Engaging Citizenship Alternative Spring Break Program and Days of Service events, including the 9/11 Day of Service, MLK Day of Service and Cesar Chavez Day of Service. Additionally, the College's Urban and Environmental Policy Institute promotes community-based programs such as the Farm to School program, the Healthy School Food Coalition and the THE (Trade, Health and Environment) Impact project.
Other community-service activities at Occidental include:
Neighborhood Partnership Program: Provides tutoring, mentoring and college visits to help underrepresented middle and high school students in Los Angeles gain the necessary skills required to successfully transition into higher education.
Semester of Service: Using two prominent days of service (MLK and Cesar Chavez), the College engages in the Semester of Service to encourage students to engage in community work throughout the year.
Food Justice and Sustainability Initiative: As part of Occidental's participation in President Obama '83's Interfaith Campus Challenge, the Office for Religious and Spiritual Life works with campus and community partners to support a Food Justice and Environmental Sustainability Initiative each year. Service in 2013-14 included volunteering with Food Forward, mapping two neighborhoods for potential food donations, starting a school garden at Washington Irving Middle School and volunteering at the Los Angeles Regional Food Bank.
Upward Bound: In 2013-14, Occidental provided services to at least 122 students attending four low-achieving Los Angeles high schools to help prepare them for college. Throughout the academic year, Upward Bound provides tutorial services, academic advising using a case-management approach, financial literacy and college knowledge workshops at each target high school. Occidental's Upward Bound program has continuously served the youth of the surrounding community since 1966.
At Oxy, civic and community engagement are designed to foster collaboration between community partners and faculty, students and staff. This model of community-based learning is directly related to the College's mission of excellence, equity and service, and the academic program's interdisciplinary, multicultural focus with its deeply rooted commitment to the public good.
The President's Higher Education Community Service Honor Roll is a program of the Corporation for National and Community Service, a federal agency that improves lives, strengthens communities and fosters civic engagement through service and volunteering. The Corporation administers Senior Corps, AmeriCorps and Learn and Serve America, a program that supports service-learning in schools, institutions of higher education and community-based organizations. For more information, visit www.nationalservice.gov.