Submitted by kwall_admin on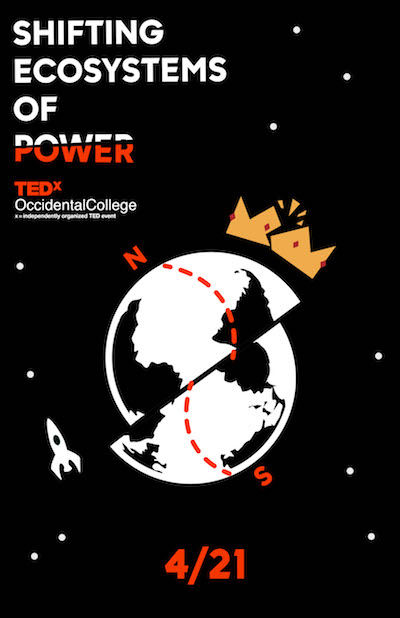 Occidental will host its third biennial TEDx conference on Saturday, April 21. Student, faculty and outside speakers will engage with the Oxy community in a thought-provoking dialogue about "Shifting Ecosystems of Power" at the all-day campus event.
The conference will be held from 10:30 a.m. to 4:15 p.m. in Choi Auditorium, divided into three sessions starting at 11 a.m., 1 p.m. and 3 p.m. The event is open to the public, with tickets at $7 per session or $15 for the full day.
The student speakers and their talks are:
Barani Maung Maung '18, Navigating Between Two Worlds: Why "Third-World" Feminism Matters
Waruguru Waithira '19, Thahu
Ashley Leon '19, Revolution in the Courts: Balancing the Scales of Justice
Yinbo Gao '18, How to Build a Startup That Deems to Fail, and Why
Claire Krelitz '18, Building Political Agency Through Self-Critique
Thomas Egan '18, How Do I Connect With My Friend? The Reality of How Mental Illness Can Affect How We See People
Dean Lin '19, The Way We Define Ourselves
Associate professor of geology Chris Oze, assistant professor of mathematics Jay Daigle and urban and environmental policy instructor Nicole Vick will be the three faculty speakers. Outside speakers include data scientist Rumman Chowdhury, chef Christine Ha and Novica CEO Roberto Milk.
"We feel this theme is particularly relevant because of the many shifting power structures and ecosystems in our world today," said conference co-organizer Grace Haggerty '20. "The topic is broad enough that it can be explored from any discipline, which makes it really exciting, as we have speakers ranging from geologists to master chefs (really, we have Christine Ha coming to speak)." 
"I am proud to be involved with the event since I have seen its ability to draw on students across campus to discuss the various ideas worth spreading brought to us by a diverse and accomplished group of speakers from across the world," said Ronald Chan '18, conference co-organizer.
Previous TEDxOccidentalCollege conferences have addressed sustainability and global development and the American Dream. More information about the upcoming conference and how to attend is available here. 
TEDxOccidentalCollege is made possible by the Young Initiative on the Global Economy and Oxypreneurship. 
TED, a nonprofit organization, started in 1984 by bringing together leaders in the fields of technology, entertainment and design. After its initial success, TED expanded its platform to the local level with the TEDx conferences. The TEDx conferences allow students and local leaders in various fields to share their ideas on a wide range of issues. Currently, the global program has more than 30,000 TEDx events in 130 different countries in its library.