Submitted by kwall_admin on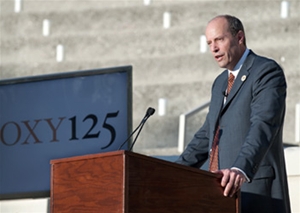 Occidental kicked off a yearlong celebration of its 125th anniversary Friday with a nod to the past—an 1887-style carnival in the Quad, complete with Ferris wheel—and an ambitious vision of the future delivered by President Jonathan Veitch.
The Founders Day celebration also featured a ribbon-cutting ceremony for the new Samuelson Alumni Center, announcement of several major gifts, and a series of panel discussions by distinguished alumni on the future of Wall Street, online entrepreneurship, and the business of movies.
"If you had asked me in 1887 to judge the chances of this small Presbyterian college located on the dusty outskirts of Los Angeles, I'm afraid I might have bet against it," Veitch told an audience of 350 alumni and other dinner guests in the Remsen Bird Hillside Theater.
Occidental not only survived, but has thrived, and today the College must set its sights high: "Occidental College will be recognized as the most distinctive urban liberal arts college in the country," Veitch pledged. To reach that goal, Occidental needs to: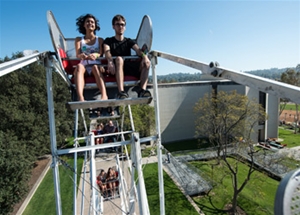 • Take advantage of its location in Los Angeles, "one of the most dynamic metropolitan environments in the world," and turn the city into an open-air laboratory, source of internships and access to artists, scientists, and entrepreneurs.
• Transform Occidental into a vibrant international campus where "acquaintance with other cultures is the norm; where international students are actively recruited and opportunities for study abroad, international internships and exchanges are readily available."
• Set the standard as one of the country's best residential colleges. "We care about what happens outside the classroom almost as much as we care about what happens inside it. ... We seek no less than to help [our students] on the path to maturity as ethical human beings alive to their responsibilities to themselves and others."
• Make endowing student scholarships Occidental's highest fundraising priority, "because we are committed to making the fruits of a first-class education available not just to the privileged few, but to the talented many."
• Reinterpret the tradition of the liberal arts and sciences for a new generation of students. "To do that, we must reinvigorate our curriculum; make the case for the importance of the liberal arts to prospective parents and the public at large; and define the skills and qualities of minds that we want our students to possess when they graduate."
The Founders Day dinner also provided a forum for Board of Trustees Chair John Farmer to announce three major gifts:
• $5 million from Sonnet and Ian McKinnon '89 for the McKinnon Family Center for Politics and Global Affairs—the largest gift from living individuals in the College's history.
• $4 million from The Ahmanson Foundation for the renovation and expansion of Swan Hall, thanks to Bill Ahmanson '85 and his sister, Karen Hoffman '77.
• $3 million from Steve '55 and Ann Hinchliffe '57 to endow student scholarships.
McKinnon, Ahmanson, and Hinchliffe all paid tribute to the lasting impact of Occidental faculty on their lives and careers as an important factor in their support of the College.
"Oxy is where I encountered [economics professor] Laurence de Rycke. He was a formidable figure," said Hinchliffe, founder and president of the Leisure Group. "Yet Larry not only became my mentor but a good friend and profoundly affected my life and career. Oxy has provided that special student-teacher relationship for so many of its graduates."
McKinnon and Hinchliffe also spoke of their admiration for Veitch and his leadership as an additional reason for their support. "We wouldn't have done this without the knowledge that Jonathan is exactly the right person to lead us to the next level of excellence," said McKinnon, managing partner of Ziff Brothers Investments.