Submitted by kwall_admin on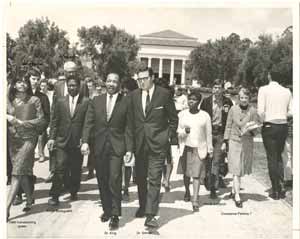 Occidental College will mark the 50-year anniversary of Dr. Martin Luther King, Jr.'s visit to campus with a student-made documentary film screening, reception and Glee Club performance on Wednesday, April 12 from 6 p.m.–7:30 p.m. in Thorne Hall.
Occidental played host to King in April 1967 at the invitation of President Richard C. Gilman, who undertook a number of initiatives early in his presidency (1965-88) to address the emerging presence of minority students on the Oxy campus.
"Efforts to introduce diversity in the student body at Occidental had begun in the early 1960s, and even earlier, but they were both limited and sporadic," Gilman wrote in 2003. "In the desire to raise awareness to a higher level, I decided to seek out Dr. King, then pastor of the Dexter Avenue Baptist Church in Montgomery, Ala., and widely recognized as the foremost civil rights leader in the country, to speak on campus."
Gilman's letter, written in July 1966, extended an open invitation to accommodate King's schedule. When he spoke to a packed Thorne Hall the following April, King addressed "The Future of Integration." He recounted the legal history of the system of segregation dating back to 1896, and the Supreme Court's Plessy vs. Ferguson decision that "established the doctrine of Separate but Equal as the law of the land."
And yet, King told the Oxy audience, "Our music, our language, our material, our cultural patterns, and even our food, are an amalgam of black and white. … Yes, we are tied together in a single garment of destiny, caught in an inescapable network of mutuality."
King's visit to Oxy included the address in Thorne Hall, a press conference and lunch with student leaders and others in Freeman Union.
Occidental retained the original audio recording of King's speech. Current students in a documentary film class are creating a film to complement the audio. Since "the students have no real memory of King, they are incorporating current photos and issues with photos and issues that were relevant at the time of the talk," says Rhonda Brown, vice president for inclusion and equity and chief diversity officer at Occidental. The film will be screened on the evening of Wednesday, April 12, following a performance by the Glee Club. Some of those same student leaders who visited with Dr. King will be attending the documentary screening and will speak to the audience after as part of a panel. A reception will follow.