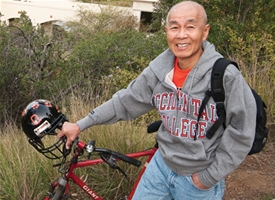 Chemistry Professor Tetsuo Otsuki, whose tough-but-tender classroom technique and baking skills touched generations of Occidental students, died Wednesday in his Pasadena home after a year-long fight against cancer. He was 69.
Otsuki, who everyone knew as Dr. O, was diagnosed a year ago with multiple myeloma - cancer of the blood cells. He fought back with the help of his many friends and former students and was officially in remission last summer - a story chronicled in the winter issue of Occidental magazine.
Tragically, his prognosis recently took a turn for the worse. Dr. O decided not to pursue further treatment, and came home from the hospital 10 days ago. "He died as he wished: under hospice care, in his own bed, with family and friends nearby and his dignity intact," Dean Jorge Gonzalez said in a message to campus.
Over the past 25 years, Dr. O influenced the lives of hundreds of Oxy students who found him a demanding but supportive teacher. Oxy's Facebook page was quickly flooded with tributes and fond memories of the professor known for his tough standards and the chocolate chip cookies he made for his students before every exam.
"I would not be half the student I became without the help, guidance and inspiration that I got from Dr O," posted Jesse Roberts '07. "Without him, I doubt that I would have found a way to truly enjoy studying organic chemistry, and without him I doubt I ever would have made it into medical school. "
"His joy in life and his love and passion for chemistry touched many lives," said Veronica Torres McLane '96, a second grade teacher in Los Angeles. "The ways in which he challenged me as my professor have impacted my love for science and the passion I want to instill in my own students."
Ramon Rodriguez '04 addressed his old teacher directly: "Thank you so much for helping a 17-year-old learn organic chemistry. Although your class was tough, you gave me a great education and a sense of determination in not giving up (regardless of how hard the class was)."
The Occidental College flag is flying at half-staff today in his memory. The College will hold a public celebration of Otsuki's life on Saturday, April 14, at 2 p.m. in Upper Herrick. A reception on Norris Patio will follow. All are welcome.