Submitted by kwall_admin on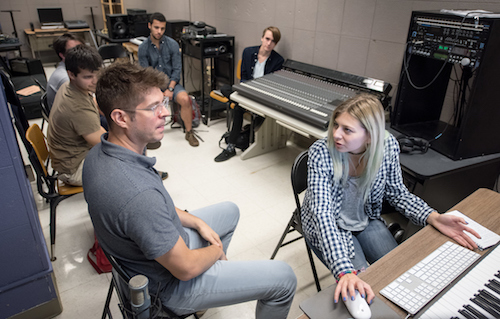 Occidental College has been named the first liberal arts college affiliate of The GRAMMY Museum, joining a select group of universities and professional schools in the United States and Europe.
As a GRAMMY Museum affiliate, Occidental will have access to museum content for educational purposes, curriculum resources, research programs, internship opportunities, professional development seminars, collaborative marketing and promotions, project-based learning and more.
The formal affiliation grew out of a longstanding relationship between Occidental and the museum, where several Oxy students have interned over the past four years.
"The Music Department has launched a music production program that we intend to be the best among liberal arts colleges in the country. The GRAMMY Museum supports this ambition, and will help us to facilitate internships and opportunities that our location makes possible," says David Kasunic, associate professor of music and department chair. "We are thrilled to be partnering with them, and are grateful to Occidental alumnus and GRAMMY Museum Board member John Branca '71 for his instrumental role in making this possible."
Paying tribute to music's rich cultural history, The GRAMMY Museum explores and celebrates the enduring legacies of all segments of the art form. The building features 30,000 square feet of interactive and multimedia exhibits located within L.A. LIVE — the sports, entertainment and residential complex in downtown Los Angeles, not far from Occidental's campus.
Since its opening in December 2008, the GRAMMY Museum has developed as reputation as an innovative 21st-century museum through its use of interactive technology, public and education programs and one-of-a-kind exhibitions.
Occidental has one of the oldest collegiate music programs in Southern California, with alumni that include influential entertainment lawyers Branca and Richard Leher '66; Charles Hirt '34, founder of USC's choral music program; legendary Wrecking Crew bassist Lyle Ritz '52; classical pianist John Browning '55; jazz keyboard virtuoso Adam Holzman '81; and singer/songwriter Ramona Gonzalez '09, aka Nite Jewel.