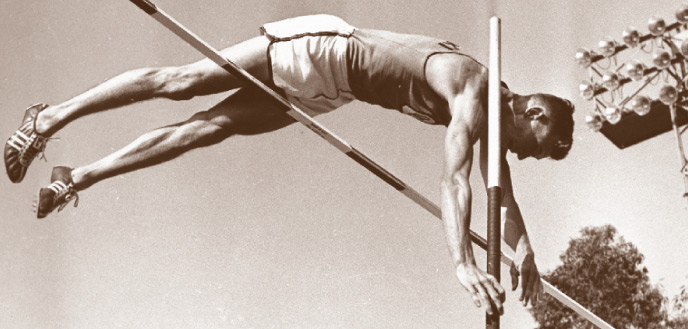 For a small liberal arts college, they are impressive numbers: 21 Olympic athletes in eight sports, seven of whom won a total of nine medals.
But Occidental's presence at the Olympic Games extends far beyond its student and alumni athletes. It has produced a legendary coach, organizers of the 1932 and 1984 Games in Los Angeles, and an Olympic historian. Even the Oxy campus has played a role: What is today Jack Kemp Stadium served as an official training site for the 1984 Games.
Dr. Sammy Lee '43, winner of the platform diving competition at the 1948 and 1952 Olympics (he also picked up a bronze in springboard diving in London) is Oxy's best-known Olympian – the first Asian-American male to win a gold medal. World-record holder Bob Gutowski '58, who won a silver medal in the pole vault in 1956 is probably a close second.
Oxy's participation in the Games began in 1904, when the first Oxy alumnus to bring home an Olympic medal, Alphonzo Bell, Class of 1895, placed second in men's doubles tennis in St. Louis. (The youthful J. Percy Hagerman, Class of 1906, placed sixth in the long jump that year.)
Silver medalist Bob McMillen '53 produced one of the most dramatic finishes in Olympic history during the 1500-meter final at the 1952 Games. Trailing at the back of the pack, McMillen put on a burst of speed in the last lap that almost caught the leader, Joseph Barthel, at the tape. McMillen missed gold by one-tenth of a second.
As head track coach at USC for almost four decades, Percy Cromwell, Class of 1902, singlehandedly out-produced his alma mater, producing 36 Olympians who won a total of 10 gold medals. Cromwell served as head U.S. track coach at the 1948 London Games after serving as an assistant in 1928, 1932, and 1936.
Bill Henry, Class of 1914, helped organize the 1932 Olympics in Los Angeles and served as announcer for each days' events in the Coliseum. The Los Angeles Times sportswriter and editor went on to write the first authorized history of the Olympics.
The son of Cliff Argue '24, a pentathlete at the 1924 Games, John Argue '53 is credited with playing a key role in bringing the 1984 Olympics to Los Angeles as longtime chair of the Southern California Committee for the Olympic Games. It was Argue who persuaded the International Olympic Committee to agree to a privately funded Olympics, and Argue who picked Peter Ueberroth to run the games.