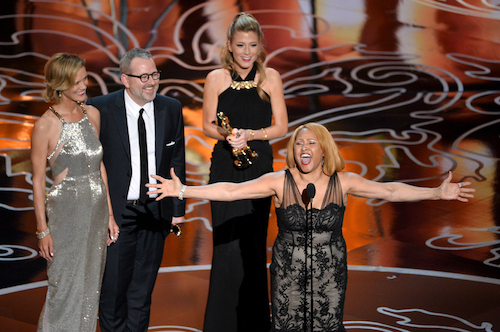 When actor Bradley Cooper presented the nominees for Best Documentary Feature at the 2014 Academy Awards, Caitrin Rogers '04 was sitting next to famed backup singer Darlene Love, one of the stars of 20 Feet From Stardom. "Darlene and I were holding each others' hands so tightly I'm surprised that I didn't break her hand," remembers Rogers, who co-produced the film.
Rogers, who—hands intact—shared the Oscar that year with 20 Feet co-producer Gil Friesen (who died of leukemia prior to the film's release) and director Morgan Neville, was just the latest in a lengthy roll call of Oxy alumni who have won or been nominated for Oscars, a distinguished list that dates back nearly 40 years.
Best known of this group undoubtedly is Ben Affleck '95, who dropped out of Occidental to make it big in the movies—and shared a 1997 Oscar for Best Original Screenplay with Matt Damon for Good Will Hunting. Affleck picked up a second Oscar in 2012, this time as a producer of Argo, a Best Picture winner that he also directed.
Lindsay Collins '94 brought home a golden statuette in 2008 when the Pixar film she co-produced, WALL-E, won the Oscar for Best Animated Feature. (Collins' most recent film was Finding Dory, one of 2016's top-grossing films.) Hotel Terminus: The Life and Times of Klaus Barbie won a 1988 Best Documentary Feature for Marcel Ophuls '50. Ophuls is probably better known as the director of the 1969 documentary The Sorrow and the Pity, his exhaustive study of the Nazi occupation of France that Woody Allen name-checks in his own Oscar-winning film, Annie Hall.
The first Oxy alum to win an Academy Award appears to have been Mike Hoover '65, who received an Oscar for Best Live Action Short Film in 1984 for his nature documentary Up (no relation to the Pixar 2009 hit). Rafael Cortina '13 has the distinction of being Oxy's first winner of a Student Academy Award. His movie Bottled Up won a 2013 Student Oscar for Best Alternative Film. (Ryan Metzler '14 was a 2014 Student Oscar finalist with his documentary, Eth"No"Representation.)
Previous Oscar nominees include Erik Nash '84, who has been nominated twice for Best Visual Effects, in 2012 for Real Steel and 2005 for I, Robot (his other films include Apollo 13, Titanic and O Brother, Where Art Thou?). Larry Bennett '72 received a 2012 nomination for his work as an art director on The Artist, the French romantic comedy that won five Oscars, including Best Picture, Best Director and Best Actor.
The first Oxy alumnus to be nominated for an Academy Award appears to be documentarian and industrial filmmaker John McDonald '71, whose 1978 film SQUIRES of San Quentin was nominated for Best Documentary Short. "It was a thrill just attending the ceremony," McDonald says.