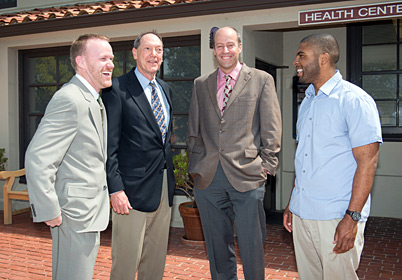 A $1-million donation from the estate of Mose and Sylvia Firestone will expand on-site psychiatric and counseling services at Occidental College's Emmons Health Center.
The Firestones, both of whom were recognized by the National Assn. of Social Workers as "Social Work Pioneers," were leaders in seeking to demonstrate that counseling was a professional service that should be available to anyone, said attorney Gary Kaplan '71, executor of the Firestone estate.
"Mose and Sylvia had no children of their own, but spent much of their careers in child and family practice. The Firestone Endowment for Student Counseling Services will continue that historic legacy by dramatically impacting Oxy students' lives for the better," Kaplan said.
Over the last five years, Emmons staff has seen a marked increase in the number of students requiring mental health and counseling assistance –- part of a nationwide trend. There can be serious consequences for students with mental health challenges who don't get professional treatment.
The Firestone Endowment will not only expand on-site psychiatric and counseling services at Emmons, but will provide funds for additional training and resources for center staff. The Endowment also will enable Emmons to develop a testing clerkship program staffed by graduate-level interns and retain a contracted psychologist to reduce the cost of helping students to document their issues to qualify for services.
"We are tremendously grateful to the Firestone estate and to Gary for this gift that will play a critical role in helping us meet a growing need," said Rick Youngblood, director of student health services.
Mose Firestone (1915-2011) was a practicing clinician, supervisor, educator and administrator of casework services. He practiced in children and family social service agencies and in hospital psychiatric social services and maintained a private practice for more than 50 years. He served as a board member of the Venice Family Clinic and president of the board of the Los Angeles Retarded Children's Foundation.
 Sylvia Firestone (1915-2009) was a leader in clinical social work services to children, families, veterans and the sick. An assistant field director for the American Red Cross in Army hospitals overseas during World War II, she subsequently served as a social worker for the Veterans Administration and other organizations in New York and Chicago. She also was director of clinic services at the Reiss Davis Child Study Center in Los Angeles.