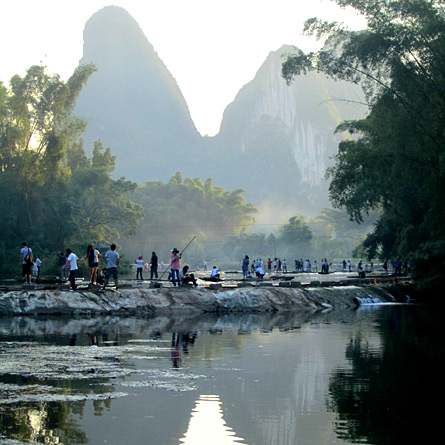 As environmental issues become increasingly prominent in China and have more significant global implications, the Henry Luce Foundation has awarded Occidental $400,000 to further develop the College's unique China-Environment Program. 
Under the leadership of Robert Gottlieb, professor of urban environmental studies and director of the Urban & Environmental Policy Institute, and Xiao-huang Yin, professor and chair of the American studies department, the four-year grant will allow the College to expand its partnerships with academic and nonprofit institutions in Hong Kong and Nanjing, develop academic content on China and the environment, stimulate student and faculty exchanges, establish innovative community-based research and classroom programs, and create public forums to view China through the lens of environmental issues.
"Through strong partnerships and important ways to understand the similarities as well as differences of the Southern California region with places in China like the increasingly urbanized Pearl River and Yangtze River deltas," Gottlieb says, "Occidental's China-Environment program can make a valuable contribution to shared knowledge and opportunities for environmental change among students, policymakers, community-based organizations, and researchers and academics in both countries."  
In addition, says Yin, "The new Luce grant will give Oxy students and faculty an extraordinary opportunity to work with Chinese institutions on environmental issues, while also helping us better understand a critical aspect of the U.S.-China relationship."
The grant is funded by the foundation's newly launched Luce Initiative on Asian Studies and the Environment (LIASE). Led by Oxy's Urban & Environmental Policy Institute, the China-Environment Program will strengthen the College's position as a Pacific Rim institution with close ties to East Asia.
All activities will be linked to a comprehensive program of faculty and student research that addresses issues of air quality; the built environment, land use and transportation; global trade; and sustainable food systems.
The initiative draws on Occidental's partnerships with Chinese institutions such as Nanjing University and Hong Kong University of Science and Technology, as well as community-based organizations in Hong Kong such as Civic Exchange and parallel community and academic organizations in Southern California, including USC's Environmental Health Sciences Center.
With the new funding, faculty from various disciplines will have opportunities to develop new courses for students to increase their knowledge of China and its environmental issues. Students will also have study abroad and research opportunities.
The grant comes on the heels of a one-year $50,000 Luce Foundation LIASE exploration grant that enabled the College to develop a plan for the inclusion of China's environmental issues in its curriculum, research, and faculty and student collaborations and exchanges.
Oxy's academic links to Asia date back to 1916, when it hired its first Asian faculty member, K.S. Inui, to teach Japanese history, and entered into its first overseas study program with Hangchow Christian College in China. Occidental launched its innovative Asian studies curriculum in the 1960s, and the program developed steadily over the next few decades.
Today, Occidental's East Asian languages and cultures department offers majors in Chinese or Japanese with a focus on language, literature and cultures, and a major in East Asian studies with a focus on a particular disciplinary issue such as art history, history, politics, religion, or transnational issues.
Occidental also has had great success in producing Luce Scholars, the nationally competitive fellowship program that provides individualized professional placement in Asia. Andrea Nieves '07 was recently named a 2012-13 Luce Scholar, Occidental's fifteenth recipient since the program was initiated in 1974 and the College's fourth winner in four years.
The Henry Luce Foundation was established in 1936 by Henry R. Luce, the co-founder and editor-in-chief of Time Inc., to honor his parents, who were missionary educators in China. The foundation seeks to bring important ideas to the center of American life, strengthen international understanding, and foster innovation and leadership in academic, policy, religious and art communities.  Its work today includes grant-making programs that support American art, East Asia, higher education, theology, public policy and the environment, and women in science, mathematics and engineering.