Submitted by kwall_admin on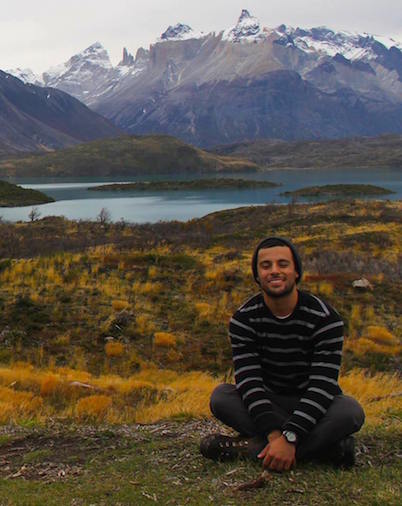 Kyle Rodriguez '16's short film about his overseas study experience in Argentina, "It's Okay," was named the winner of IES Abroad's second annual Study Abroad Film Festival.
With 1,077 total votes cast on Facebook, Rodriguez's 8-minute film was the top vote-getter among this year's three finalists in the competition sponsored by IES Abroad, one of the world's leading study abroad program providers.
Rodriguez's film highlights his time in the IES Abroad Buenos Aires program last spring, and addresses the unpredictable emotional journey that students can take while studying overseas—a topic people rarely talk about.
"I bought a GoPro before my trip to document the experience and I didn't have any clue what the end product was going to be like; I just knew that I wanted to make something," said Rodriguez, an economics major from West Hartford, Conn. "At the end of my time in Buenos Aires, I found that although the images showed all of the things I did and the places I went, they said nothing about how I felt and what I was thinking. I wanted to create something that expressed the spectrum of emotions I felt while cutting through the glamour of the way people talk about their study abroad experiences."
The 2015 Study Abroad Film Festival welcomed 45 submissions, which were narrowed down to 19 semifinalists, and then three finalists.
The jury, which included film experts, faculty, as well as an Oscar-nominated IES Abroad alumnus, Willard Huyck, evaluated submissions based on capturing the spirit of study abroad, production quality, entertainment value, and originality.
Juror Elisabetta Lodoli, IES Abroad Rome Film Studies faculty member, commented that "It's Okay" showcased "an unusual, mature, and sincere point of view on living abroad." IES Abroad's 2014 Film Festival winner, Alexa Penton, said that the film was "not just beautiful, but also honest and important."
Rodriguez will receive $1,000 and an invitation to attend the screening of his film at the IES Abroad Annual Conference in Chicago next month.
Occidental is a member of the IES Abroad Consortium and since 1960 has sent hundreds of students on IES Abroad programs. More than two-thirds of Oxy students pursue the College's multiple routes to global citizenship: traditional study abroad, and research, internships and fellowships abroad.