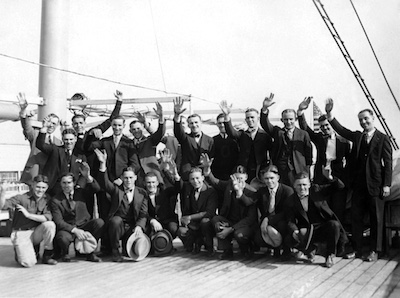 When the Occidental College Tigers travel to Hawai'i for a Sept. 17 football game against Oregon's Pacific University, they will play what is believed to be the first game ever between two NCAA Division III football programs in the Islands.
But it won't be the first time the Tigers have gone to Honolulu for a football game. Nor will it be the first time an Occidental team has traveled to Oahu for intercollegiate competition.
Oxy football first traveled to the Islands in 1924 – then a five-day ocean voyage away – to play the University of Hawai'i. They lost that game to the 'Bows, just as they lost the following year when UH traveled to Los Angeles and played Oxy on Thanksgiving Day in the L.A. Coliseum.
After what is today a five-hour flight, the Tigers will face off against Pacific at Kūnuiākea Stadium on the campus of Kamehameha Schools Kāpalama on Saturday, Sept. 17 at 5 p.m. HST.
The football team will follow in the wake of the women's soccer team, which is scheduled to open its 2016 season this weekend with a Sept. 3 opener against Brigham Young University-Hawai'i in Laie (3 p.m. HST) and a Sept. 5 match at Hawai'i Pacific University in Kaneohe (also 3 p.m. HST).
Soccer, in turn, follows the women's golf team, which traveled to Hawai'i to compete last October, and the Tiger softball team, which also played in the Islands in March.
This fall's schedule means going home for several Oxy players, including senior defensive back Chaz Shizumura, a economics major from Kaneohe; Max Vinci, a junior offensive lineman and physics major also from Kaneohe; Kylie Takafuji '17, a kinesiology major and midfielder from Honolulu; Erin Dung '19, an undeclared defender from Honolulu; and Julie Khil '17, a psychology major and forward from Honolulu, three-time All-SCIAC selection and 2014 SCIAC Player of the Year.
Oxy currently has students from four of the Islands – Oahu, Maui, Kauai and the Big Island – a trans-Pacific connection that dates back to at least 1927, when Ernest Iwasaki of Kukuihaele, Hawai'i graduated from Occidental.
More than 450 Oxy alumni live in the Islands, including former Hawai'i Attorney General David M. Louie '73; Neil Kuyper '88, president and CEO of Parker Ranch, the state's second-largest landowner; and Kent Lucien '75, vice chairman and CEO of the Bank of Hawai'i.