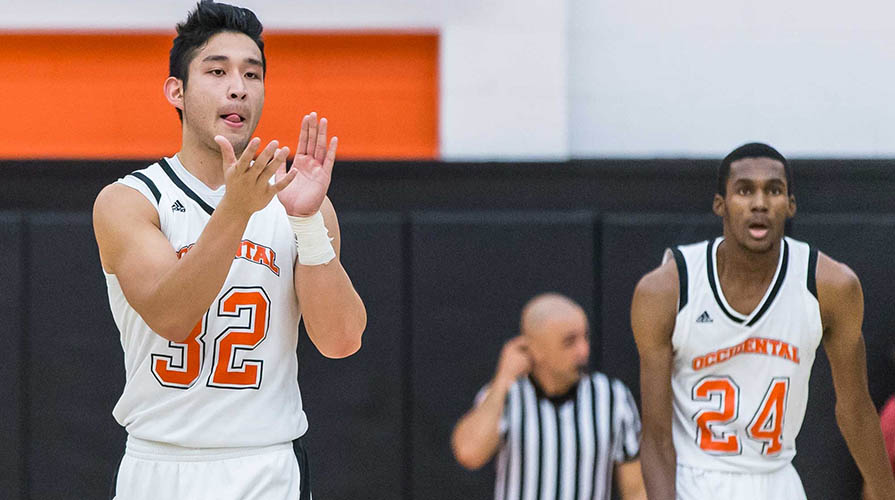 The Occidental men's basketball team scrapped its way past No. 9 Pomona-Pitzer 64-63 at Rush Gym on Saturday, spoiling the Sagehens' undefeated conference season.
With 17 seconds to play and Pomona-Pitzer with the ball, Oxy's best on-ball defender Ryan Kaneshiro got switched on to Daniel Rosenbaum, who drove to his left, but Oxy walled up and forced Micah Elan to shoot a tough contested shot from the corner with Caleb Yellin-Flaherty flying at him. The shot missed and there was a fight for the ball in the paint, but neither team was able to secure it as time expired, sending Oxy celebrating all over the court with the victory. 
It was a physical game, to say the least, in front of the Tigers' biggest home crowd of the season. The student body turned out in full force to celebrate senior day with the visiting families of Brandon Ruotolo, Zach Baines and Austin DeWitz.
Oxy fell behind 12-2 and then surged back to win the first half 33-23, playing extremely hard on defense. 
Baines scored a team-high 21 points on 9-for-19 shooting, shrugging off a slow start. He settled for outside shots early, but when they didn't fall, began going to the basket and posting down low, scoring 13 of his points in the second half and many of them down the stretch at key moments. 
Kaneshiro made winning play after winning play, many of them that won't show up in the box score. He got loose balls, played outstanding defense on guards and bigs, and ran the show for the Tigers at the point guard position. He had 10 points on 5-for-6 shooting, eight assists, four rebounds and two steals.
Yellin-Flaherty played good help defense and rotated over from the weakside, helping Oxy hold Pomona-Pitzer to 40 percent shooting on the game. He finished with six points, four assists, four steals and two blocks. 
Austin DeWitz controlled the boards for Oxy with a game-high 13 rebounds, including 12 at the defensive end of the court. He also scored the go-ahead basket off an inbounds play, slipping a screen against the Pomona-Pitzer 2-3 zone and finishing a reverse layup with 55 seconds to play.
Jacob Adler scored eight of his 13 points in the second half, including a big three with 7:08 left that put Oxy up 54-47 and an off-the-bounce shot from 14 feet that put Oxy up 58-54 and made it two possession as the Sagehens were gaining ground on the Tigers.
With usual starter out Jonny Crosthwaite out with an injury, Oxy got a big boost from its bench with Ruotolo, Kyle Dosa and Connor Dargan all getting a big run. Dosa played 14 minutes and was solid on offense and defense, finishing with a pair of threes for six points, along with three assists and three rebounds.
Daniel Rosenbaum led Pomona-Pitzer with 23 points, Corbin Koch added 18 and Micah Elan had 11.
Season Impact: Oxy improves to 21-4 overall and 12-4 in SCIAC play, matching its conference record from last season.
The Tigers have been receiving votes in the D3hoops.com National Top 25 poll.
Pomona-Pitzer falls to 22-2 and 14-1 in SCIAC. The Sagehens had won 18 games in a row, dating back to their only loss at Washington University in St. Louis. 
Next Game: The Tigers are all set for the SCIAC Playoffs next Friday, playing at Claremont-Mudd-Scripps at 7 p.m.