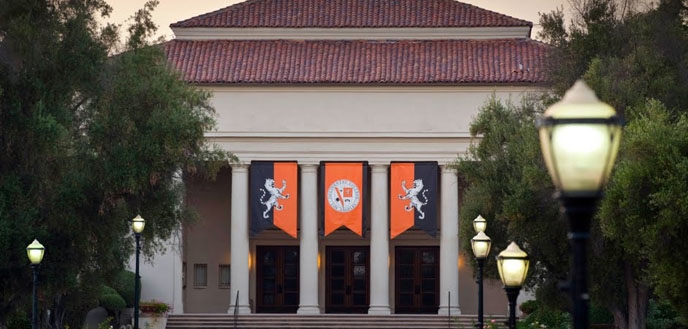 Continuing a long tradition of scientific excellence, five Occidental College students and alumni have been awarded two of the country's top awards: the Barry Goldwater Scholarship and the National Science Foundation Graduate Student Fellowship.
Chelsea Blankenchip '17, Kayla Currier '17 and Natalie Dwulet '17 are among the 252 recipients of 2016 Goldwater scholarships, presented to sophomores and juniors who plan to pursue careers in mathematics, the natural sciences or engineering. The award covers up to $7,500 annually for undergraduate tuition, fees, books and room and board.
This year, just 17 percent of Goldwaters went to students at small liberal arts colleges. Occidental is one of only six to win three Goldwaters, a group that includes Williams, Pomona, Harvey Mudd, Lafayette and Michigan's Hope College. This is the fourth time since the Goldwater scholarships were established by Congress in 1986 that Oxy students have won three or more in a single year.
"Both the Goldwater and NSF awards require a significant amount of effort and commitment from students, and we are excited and proud that their hard work has been recognized," said Jeff Cannon '07, assistant professor of chemistry and a Goldwater winner himself who with Biology Professor Gary Martin advised this year's applicants.
"Successful applications for these awards require students to work closely with a faculty mentor, and we think our success this year is a reflection of Oxy's ability to foster those relationships," Cannon said.
Blankenchip, a biochemistry major from Carmichael, plans to pursue a Ph.D. in microbiology. Currier, a physics and mathematics double major from San Dimas, intends to earn her doctorate in plasma physics. Dwulet, a chemistry major from Coronado, also plans to pursue a Ph.D., in her case in organic chemistry. All three women hope to have careers in which they combine research and teaching.
Two recent Occidental graduates have received the prestigious National Science Foundation Graduate Research Fellowship, awarded annually to candidates in the sciences and social sciences who are pursuing a master's degree or Ph.D.
Both Thuy Hua '13 and Kristina Geiger '14 are no strangers to major awards: as undergraduates both were recipients of Fulbright study/research grants, which sent Hua to the Czech Republic and Geiger to Switzerland. (Occidental is one of the country's top producers of Fulbright recipients.)
Hua, a biology major from San Diego, plans to start her Ph.D. studies in neurobiology at Duke University this fall. Geiger, a Phi Beta Kappa graduate in biochemistry from Fair Lawn, Ohio, is enrolled in UC Berkeley's Ph.D. program in infectious diseases and immunity.
The NSF fellowship provides three years of support for graduate study leading to research-based advanced degrees and is intended for students in the early stages of their graduate work. It provides a $32,000 living stipend and  $12,000 per year for tuition for three years.
Since 1990, 39 Occidental alumni have been awarded NSF Graduate Research Fellowships.