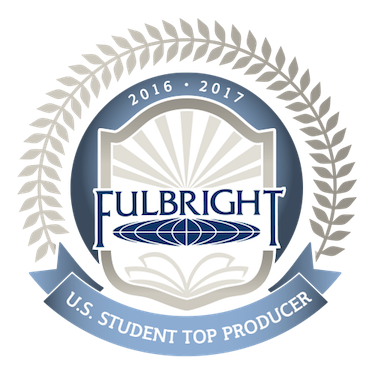 For the eleventh consecutive year, Occidental College is one of the country's top producers of student Fulbright Awards, according to the Chronicle of Higher Education's annual Fulbright rankings. 
Nine Occidental students and alumni won Fulbrights in 2016 to work and study in six countries on three continents. The nine are among 94 Occidental students and alumni who have won Fulbrights since 2003.
Occidental ranked tenth overall among liberal arts colleges, tied with Carleton, ahead of such colleges as Wellesley, Grinnell, Wesleyan, Davidson, and Williams, according to the Chronicle rankings.
"Oxy has a real institutional commitment to support our fellowship applicants and a broad network of support on campus that includes faculty, the Writing Center, and the International Programs Office as well as my office," says Kim Babon, director of national and international fellowships.
"I start working one-on-one with candidates early in the process to identify which opportunities best fit their goals and skill sets," Babon says. "That leaves them ample time to draw on our network of support. And they all benefit from the great preparation their Oxy education gives them."
Occidental's 2015-16 Fulbright award winners are:
Carolina Cardoza '16, a critical theory and social justice major from Highland Park, who was sent to Guatemala with an English teaching grant
Lichun Chang '16, a religious studies major from San Diego, to South Korea with an English teaching grant
Zachary Del Rosario '13, a diplomacy and world affairs major from Staten Island, New York, to Hungary with an English teaching grant
Claudia Dumpson '16, a sociology major from Burlingame, to Spain with an English teaching grant
Ella Fornari '16, a double major in biology and art history and the visual arts from Brooklyn, New York, to the University of Nottingham to pursue a master's degree in biological photography and imaging
Zoe Namba '16, a biology major from Honolulu, to South Korea with an English teaching grant
Sebastian Ohara-Saft '16, a kinesiology major from Hilo, Hawai'i, also to South Korea with an English teaching grant
Samuel Ravetz '16, a diplomacy and world affairs major from New York, to Spain with an English teaching grant
Rachel Young '16, an urban and environmental policy major from Palos Verdes, to Hong Kong with a research grant to compare university food waste reduction programs
The 2015-16 Fulbright candidates worked with an interdisciplinary group of program advisors—Chemistry Professor Chris Craney; Laura Hebert, associate professor of DWA; Clair Morrissey, associate professor of philosophy; Mary Johnson, assistant professor of Spanish and French studies; Krystale Littlejohn, assistant professor of sociology; and Kirstin Wandschneider, associate professor of economics --as well as a larger group of dozens of faculty mentors.
The Fulbright program, which covers travel, education and living expenses, was established in 1946 under legislation introduced by Sen. J. William Fulbright of Arkansas. The program operates in more than 155 countries worldwide.