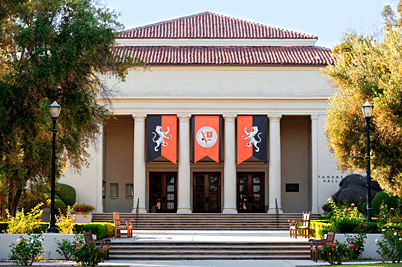 For the third consecutive year, the New York Times has ranked Occidental College as one of the country's most economically diverse colleges, based on enrollments of lower- and middle-income students and the net price it charges those students.
The Times ranked Occidental as No. 28 among all 170 public and private colleges and universities with five-year graduation rates of at least 75 percent, and No. 11 among liberal arts colleges. The newspaper's annual College Access Index "is a measure of which top institutions are doing the most to promote the American dream," according to the Times.
Oxy's commitment to economic diversity was underlined by a separate report from Georgetown University's Center on Education and the Workforce, which found that Occidental is one of a handful of national liberal arts colleges where at least 20 percent of student enrollment is made up of Pell Grant recipients.
Oxy achieves this result with an endowment (roughly $400 million) that is just a fraction of the size of the other top Pell liberal arts colleges (Amherst, $2 billion; Smith, $1.7 billion; Vassar, $980 million). Some 70 percent of Occidental students receive some form of financial aid, including Pell grants.
The Times' economic diversity rankings are based on what it calls the Pell graduate share (the average share of the first-year class that received a Pell grant in 2012-13, 2013-14, 2014-15 and 2015-16, multiplied by the graduation rate for recent Pell recipients) and the net price (tuition, fees, room and board, after taking into account federal, state and institutional financial aid) for middle-income students.
The new rankings come during an uptick in interest in Occidental. The College has received more than 6,775 applications this year for admission to the Class of 2021 – a 5.6 percent increase over the previous year, and a new record.