Submitted by kwall_admin on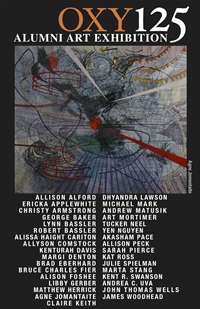 Featuring the work of more than 30 practicing alumni artists from around the world, the Oxy125 Alumni Art Exhibition opened on March 22 for a month-long run to help kick off Occidental College's yearlong 125th anniversary celebration.
The exhibition is mounted in the Weingart Gallery and Mullin Family Studio and Art Gallery. The pieces on display in the Oxy125/Alumni Art Exhibition represent a wide range of media - paintings, drawings, prints, photography, ceramics, sculptural installations - by alumni artists from the Class of 1956 to the present day. They include Sarah Pierce '90, currently creating a site-specific installation in Dublin, Ireland; Michael Mark '91, a painter in Melbourne, Australia; and John Wells '79, a master Bizen potter living in Japan.
Two alumni came to campus on the day of the opening to create their work for the exhibition. Libby Gerber '03 built one of her clay columns in Mullin Gallery; Kenturah Davis '02, who created a gallery wall drawing of Janet Stafford '52, one of Oxy's first African-American graduates, discussed her work and her influences in the Weingart Gallery.
The Weingart Gallery is on the second floor of the Weingart Art Building, at the southeast corner of Bird and Gilman roads on the Oxy campus. Gallery hours are 12 noon-5 p.m., Monday-Friday. For maps and directions visit http://www.oxy.edu/x119.xml.