Submitted by kwall_admin on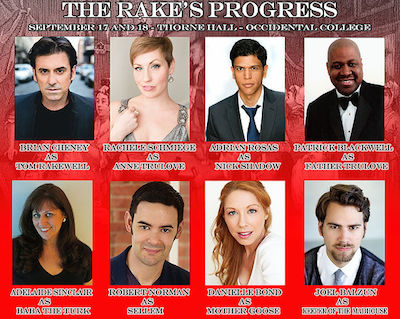 Northeast L.A.'s Pacific Opera Project (POP) will stage a rare production of Igor Stravinsky's opera The Rake's Progress in Thorne Hall on the Occidental College campus on Saturday, September 17 at 7 p.m. and Sunday, September 18 at 3 p.m.
"As Stravinsky was writing this opera in North Hollywood in the 1940s — a time when Los Angeles was ripping up its red cars and expanding its freeways — the meditation on the perils of urban 'progress' that is The Rake's Progress resonates to this day," says David Kasunic, associate professor of music history at Occidental.  The opera premiered in Venice in 1951 and had its last Los Angeles staging at USC in 2005. (Before that, it was performed by San Francisco Opera in 1962 at the Shrine.)
The opera is the retelling of the Faustian tale of a young man who is tricked by the devil into giving up all the good things he has in life to pursue his wildest dreams. Stravinsky was inspired to write the opera (purportedly at a Hollywood IHOP) after seeing British artist William Hogarth's eight paintings "The Rake's Progress" in Chicago. Both the Hogarth series, from the pre-industrial 1730s, and the Stravinsky opera fashion the city as a place where one loses one's soul.
The production ties into Occidental's Core curriculum theme for the 2016-2017 academic year, "Re-envisioning Metropolis:  Los Angeles and the Urban Arts."
In the five years since it was founded, the Pacific Opera Project has developed an enthusiastic fan base and has established itself as a model for "small, flexible, innovative, urban" opera, according to a March 2016 article in the Huffington Post. The article cites POP's "highly visual productions that are both entertaining and accessible." While headquartered in Highland Park, the company has no official house, instead moving with each production. It has nevertheless increasingly attracted talented singers from across the country. 
Two years ago, Occidental started a relationship with POP that began with members of the cast coming to campus to preview their productions and with the music department arranging for groups of students, faculty and staff to attend their performances. The department will sponsor POP for this full production of Stravinsky's opera. The Occidental Glee Club will serve as the chorus for the production, while students in Oxy's theater department will assist behind the scenes, permitting them to work up close on a professional opera production. There will also be full orchestration.
"Our ambition it to have POP produce an opera on campus once a year, and for Oxy to be POP's academic home," Kasunic says. "For while Oxy can offer an enviable vocal and instrumental program, we will never have the capacity to put on operas of professional quality. This intimate and growing relationship with POP therefore complements what we can offer, connects us more to our surrounding community and celebrates the professional nationally recognized talent that is at our doorstep."
Tickets range from $20 to $50 and all seating is reserved. Visit POP's website to purchase. Occidental faculty, staff and students will be able to attend the dress rehearsal on Thursday, September 15, at 7 p.m, for free (ID required). The music department will sponsor a campuswide reception beforehand.