Submitted by kwall_admin on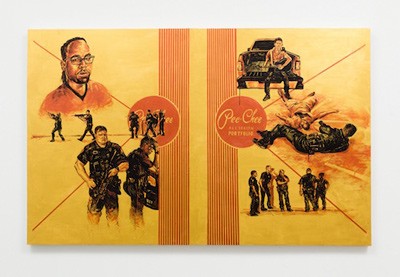 Up-and-coming Los Angeles artist Patrick Martinez has, according to one critic, "an acute talent for spotting cultural subtexts and foregrounding their pathologies in multiple media," including painting, drawing, sculpture and neon.
Martinez is bringing his sharp eye and multimedia talent to Occidental College's Weingart Gallery, where his new exhibit, "Po-lice," will be on display March 23-April 16. The opening reception will be held from 5-8 p.m. at the gallery on March 23.
The exhibit, presented by Oxy Arts, will feature Martinez's take on America's Pee-Chee folders, the golden-hued school staple used by generations of schoolchildren. Martinez replaces typical American imagery with illustrations that accurately depict the deathly racial situation playing out in America today: police brutality and misconduct.
"The original Pee-Chee folders had a theme of youth and sports," says Martinez.
"I'm taking these situations of police misconduct and placing them in the context of a sort of an 'All-American' setting. I want viewers to see these horrific injustices from another angle and show that this is affecting our youth."
The signature neon work in the exhibition speaks to the storefront neon signage found across America at liquor stores, markets and bodegas. Martinez remixes the messaging to address such serious topics such as equality, immigration and refugee displacement.
As the Los Angeles Times said of "All Season's Portfolio," Martinez's recent show at Charlie James Gallery in Chinatown, "It is work that, as of late, is catching the eye of the art world."
Martinez, 36, is a son of Los Angeles and a graduate of Art Center College of Design. His diverse cultural background (Filipino, Mexican, and Native American) provides him a unique lens through which to view and interpret his surroundings. Influenced by the Hip Hop movement, Martinez's work leverages the signage, language, and surfaces that underpin visual life in Los Angeles and frequently reflects subtexts of power and inequality he observes.
His art has been exhibited across the country in Los Angeles, San Francisco, Minneapolis, Miami and New York and internationally in the Netherlands. Last year, in addition to the Charlie James Gallery show, he exhibited at L.A.'s Vincent Price Museum, the Cornell Fine Arts Museum in Winter Park, Fla., La Louver Gallery, Guerrero Gallery in San Francisco, and at Biola University.
Weingart Gallery is located in the Weingart Center for the Liberal Arts on the Occidental College campus, 1600 Campus Road in Eagle Rock. The gallery is open Wednesday 2-7 p.m., Thursday 12-5 p.m., Friday 2-7 p.m., and Saturday and Sunday 2-5 p.m.
This exhibition is made possible with the generous support of the Andrew W. Mellon Foundation.