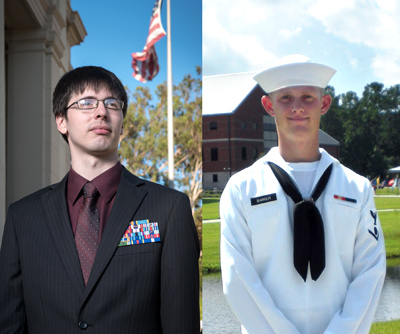 Two veterans with a total of 12 years of service in the Air Force and Navy are enrolled at Occidental College, thanks to two grants of $50,000 each from the Ahmanson Veterans Scholarship Initiative (AVSI).
The new program funded by the Ahmanson Foundation was created in 2013 for the recruitment, education and retention of student veterans eligible for the Post-9/11 GI Bill. Occidental administrators are actively recruiting veterans for the program, with the possibility of a third transfer student in the spring 2015 semester.
Oxy's first AVSI Scholar was Mark Aaron Hammonds '16. Hammonds, a six-year Air Force veteran who served in both Afghanistan and Iraq, is majoring in sociology and is studying the experience of moral injury and suicide in U.S. veterans. He has become a true advocate for veterans and, working with staff and faculty, hopes to host a weeklong discussion of veterans and their challenges on campus.
"At every turn, the staff and faculty of Occidental have exceeded even the most ambitious of my expectations," says Hammonds, a Pasadena resident who was honorably discharged with the rank of staff sergeant. "Every day, the rigorous classroom environment and enthusiastic student body prove anew that Occidental was the perfect choice for me. Words alone cannot express the depth of my gratitude."
"Your generosity, through the Ahmanson Veteran's Scholarship Initiative, allows me to support my brothers and sisters even after leaving the battlefield," he says. Indeed, Hammonds was behind the effort to organize a formal Veteran's Day Observance on campus, which included a panel of veterans as well as a presentation called Seventy Years of Service highlighting the history of service members at the College and the achievements of Oxy's military alumni.
The second veteran is Daryl Barker '18, who transferred to Occidental in fall 2014 after serving six years in the U.S. Navy, where he did three strategic deterrent patrols aboard the USS Tennessee and was honorably discharged as a first-class petty officer.
The AVSI funds have "allowed me to pursue an education in order to continue to be of service both in my community and to my country," says Barker, a Santa Monica native who says he has dreamed of attending Occidental since he first visited the campus in 2006. "My goal is to use the education I receive to serve in our country's diplomatic corps one day."
In combination with the AVSI, the Pell Grant, the Post-9/11 GI Bill funding and the Yellow Ribbon program benefits, Occidental has met the full financial need of both student veterans. Both will graduate with no student loan debt.
Occidental is one of 24 private California colleges and universities participating in AVSI. Each has pledged to try to admit at least one more veteran in the coming year than they had in the previous year.