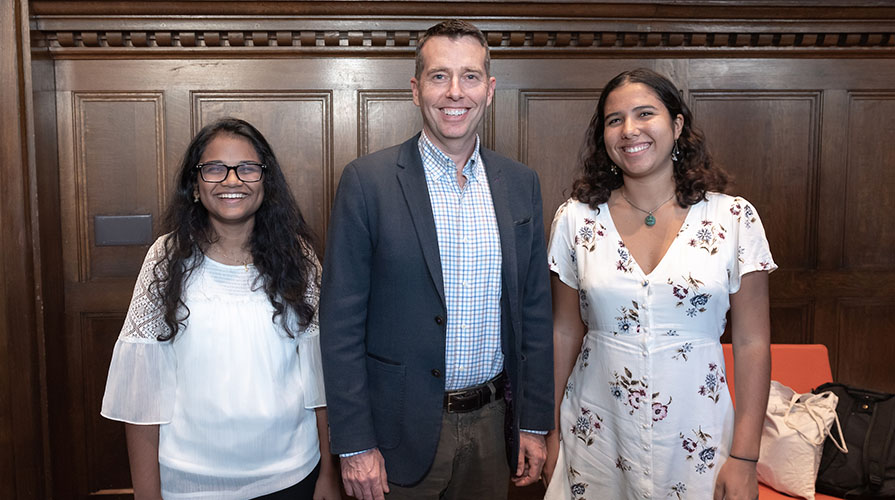 American politics may be "ugly, small and unimaginative," but the only way to change the country's direction is to win elections, former Obama campaign manager and White House senior advisor David Plouffe told an Occidental College audience October 19.
"Everything that affects you is based on who you elect," Plouffe told a packed Choi Auditorium as the inaugural speaker in the College's new Obama Scholars Speakers Series, urging his audience to remain engaged in the political process as he analyzed the possible outcomes of the November 6 midterm elections.
Plouffe was joined by Clapp Distinguished Professor of Politics Peter Dreier and former California state senator and current Occidental trustee Hector De La Torre, who asked him a series of wide-ranging questions.
The speakers series is part of the Obama Scholars Program, launched last year to empower exceptional students committed to the public good as it honors and perpetuates the principles President Barack Obama '83 has advanced throughout his life. Occidental welcomed its first two Obama Scholars with the Class of 2022 this fall.
"Occidental is a really important moment in the Obama journey," said Plouffe, the current policy and advocacy chief for The Chan Zuckerberg Initiative. "I couldn't be more excited about the Scholars Program. I had a chance to meet some of the scholars and fellows earlier, and it gave me great optimism that they talked about their desires and hopes.
"I think this program is just tremendous, thinking about what these folks are going to do out in their communities around the world to bring about change," he continued. "It could not be more exciting. It is so core to Barack Obama's philosophy that change is not going to come from folks at the top, it's going come from young people making their mark."
Plouffe elaborated on the theme of youth involvement after Dreier suggested that the 16 Oxy students currently working with campaigns across the country as part of the College's unique Campaign Semester Program seem to be indicative of a greater interest in politics among young people.
"We desperately need it," Plouffe said. "People don't have to wait until a certain age to make a difference. You have to shape the world you're going to own. … It's the most important thing we can do -- get the younger generation involved in shaping contours of their country."
Looking ahead to the midterm elections, Plouffe predicted an unusually high number of close contests in both House and gubernatorial races. "It's hard to find a recent parallel in American political history," he said.  "Those people I know in House races are growing more bullish, not less. Folks in Senate races are less bullish. It's going to be really close. … All I can say it's going to be a really, really late night."
Should Democrats gain a majority in the House, they can take nothing for granted, he warned. "The Democratic political brand is not really great right now. A lot of voters tuned out both parties," he said. "It's really important to have a vision, to animate it, to talk about it, and pass legislation. Hopefully there will be a sense that these people have new ideas, not just that they are anti-Trump. There are important questions that Democrats need to answer: What are we for? What could get done?"