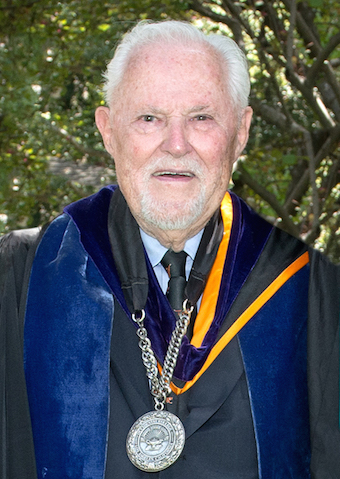 Richard C. Gilman, the second-longest-serving president in the history of Occidental, died in Pasadena on January 15. He was 92.
Named Occidental's tenth president in 1965, by the time Gilman retired in 1988 after 23 years of distinguished service he had signed more than half of the diplomas the College awarded during its first century. His term was marked by the growth of the endowment from $11 million to $130 million; a one-third increase in the full-time faculty; creation of a variety of innovative interdisciplinary academic programs; and a substantial rise in Occidental's national reputation. "Under Gilman's tenure, the selective college has grown its wealth and stature, maintained fiercely loyal alumni support, and begun to compete with the better-known colleges of the east," the Los Angeles Times reported in 1988.
Using what he called a "practical, sensible, careful approach," the imperturbable Gilman successfully guided Occidental through the tumultuous era of campus protests against the Vietnam War in the late '60s and early '70s. Regarding faculty development and teaching as essential to the strength and vitality of liberal arts colleges, Gilman increased salaries and benefits, encouraged and supported faculty research, and made significant investments in the sciences, including construction of a new biosciences building. A life-long interest in interdisciplinary academic inquiry inspired Gilman to promote the creation of new programs such as American studies, urban studies, and biochemistry. This growth was accompanied by substantial investments in campus infrastructure including the construction of Keck Theater, the Arthur G. Coons Administrative Center and Stearns Hall, a large addition to the library, the remodeling of Orr Hall into the Weingart Center for Liberal Arts, and the renovation and expansion of athletic facilities in conjunction with Oxy's role as a practice facility for the 1984 Olympic Summer Games.
Born in Cambridge, Mass., on July 28, 1923 to a family of modest circumstances, Gilman never lost his distinctive New England accent nor his affinity for his native region. He attended Dartmouth College on a full scholarship, where he received his A.B. cum laude as a member of the Class of 1945 on an accelerated, war-time calendar. He served as an officer in the U.S. Navy in World War II aboard the U.S.S. Shangri-La (CV 38) in the Pacific. In 1948, he enrolled in Boston University where he was a Borden Parker Bowne Fellow. Gilman also attended the University of London and received his Ph.D. in philosophy from Boston University in 1952. He also was awarded seven honorary degrees, including from Pomona College and USC.
Gilman began his academic career as a teaching fellow in religion at Dartmouth in 1948.  He was a tenured faculty member in philosophy and religion at Colby College for six years, leaving in 1956 to become executive director of the National Council on Religion in Higher Education. In 1960, he was named dean of the college and professor of philosophy at Carleton College, where he served as the chief academic officer until coming to Occidental.
During the course of his 40 years in higher education, Gilman was on the boards of numerous national organizations, including the American Council on Education, the National Association of Independent Colleges and Universities, and the Association of American Colleges. He was also a consultant for the Ford, Knight, Rockefeller and Sloan Foundations, among others. In 1979-80, Gilman played a key role in the establishment of the U.S. Department of Education, serving as executive assistant and special counsel to Secretary of Education Shirley Hufstedler. He also was appointed by the Department of State to participate in seven educational missions overseas.
Outside of his academic service, Gilman's board leadership included service with the California Museum Foundation, Phi Beta Kappa Alumni of Southern California, California State Chamber of Commerce, Cape of Good Hope Foundation, Los Angeles World Affairs Council, Historic Southwest Museum, and the Wellness Community-Foothills (now the Cancer Support Community of Pasadena).
Gilman was predeceased by his first wife, Lucille, in 1978, and his second wife, Sarah, in 1986. He is survived by his children Marsha; Bradley M'78 and wife Roberta; Brian and wife Suzanne; Tucker and wife Tania; by six grandchildren, Douglas and wife Emily and Caitlin; Anna and Sarah; and Andrew and Peter '13; and by his great granddaughter, Arya. He will also be missed by Michele Clark, neighbors, and friends. Plans for a celebration of his life to be held at Occidental in the spring are pending.