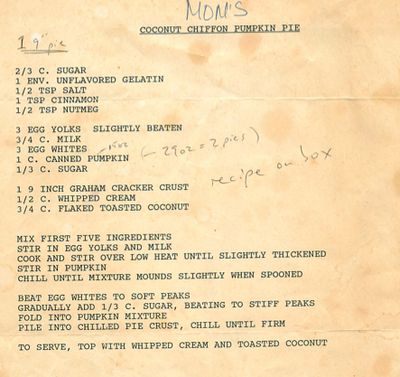 When President Barack Obama '83 was a freshman at Occidental, he couldn't afford to fly home to Hawaii for Thanksgiving, so his Haines roommate Paul Carpenter '83 took him under his, er, wing. 
"We had turkey day dinner with my family in Claremont. All those memories are fond," Carpenter recalls. "My mother loves him. He was unassuming, easygoing and good-natured. Those were fun times. He did love my mom's apple pie and her coconut chiffon pumpkin pie."
Paul's mom Alice Carpenter concurs that young Barry "had gracious manners and was very warm." 
Dad Chuck Carpenter remembers: "He'd come over because he lived a long way away and you do things with your roommate. ...He was just a wonderful young man. Just a very fine young man. Polite, personable." 
Alice kindly has agreed to share her recipe for Obama's favorite coconut chiffon pumpkin pie with the Oxy community.
"Barry's Favorite" Coconut Chiffon Pumpkin Pie
From: Alice Carpenter
Makes: 1 9-inch pie
2/3 cup sugar
1 envelope unflavored gelatin
½ teaspoon salt
1 teaspoon cinnamon
½ teaspoon nutmeg
3 egg yolks, slightly beaten
¾ cup milk
3 egg whites
1 15-ounce can of pumpkin
1/3 cup sugar
1 9-inch graham cracker crust (use recipe on graham cracker box)
½ cup whipped cream
¾ cup flaked toasted coconut
1. Mix first five ingredients
2. Stir in egg yolks and milk
3. Cook and stir over low heat until slightly thickened
4. Stir in pumpkin
5. Chill until mixture mounds slightly when spooned
6. Beat egg whites to soft peaks
7. Gradually add 1/3 cup sugar, beating to stiff peaks
8. Fold into pumpkin mixture
9. Pile into chilled pie crust, chill until firm
To serve, top with whipped cream and toasted coconut.
Mom says: "Enjoy!"