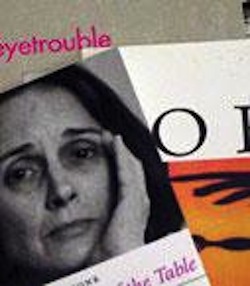 Martha Ronk, Occidental's Irma and Jay Price Professor of English Literature, is a finalist for the 2013 National Book Award poetry prize.
Ronk made the longlist of 10 with her new collection Transfer of Qualities from Omnidawn Publishing. 
Ronk said she felt "surprise and enigma and the oddity of it" when she found out she was a finalist. "Poets write in great privacy and I am always surprised when someone tells  me of reading my work."
Also a fiction writer, Ronk was born in Cleveland and earned a B.A. at Wellesley College and a Ph.D. at Yale University. She joined the Occidental faculty in 1980.
With wry humor and formal curiosity, she tests the limits of syntax and literary convention in her work. The author of numerous collections of poetry, including Transfer of Qualities (2013); Partially Kept (2012); Vertigo (2007), chosen by C.D. Wright for the National Poetry Series; and In a landscape of having to repeat (2004), winner of the PEN Center USA Literary Award, Ronk has stated that, for her, "Writing is the most interesting and exhausting thing I do. And every time I read a great piece … I am eager to write more, to find yet another juxtaposition of words. Each one offers something of a solution to the mystery of how it is done."
She has read her poetry around the country, on radio and television, and at the Los Angeles Times Book Festival. It also was set to music by German composer Cord Meijering.
Ronk's prose includes Glass Grapes: And Other Stories (2008), and Displeasures of the Table: Memoir as Caricature (2001). Her work has been featured in American Hybrid: A Norton Anthology of New Poetry (2009) and Lyric Postmodernisms: An Anthology of Contemporary Innovative Poetries (2008). Additional honors include the PIP Gertrude Stein Award for Innovative Poetry and a fellowship from the National Endowment for the Arts.
Her short stories have been published in journals such as The Chicago Review and The Harvard Review, and her scholarly pieces have appeared in Shakespeare Quarterly and English Literary Renaissance, among other journals. Ronk is completing a book on allegorical women in Shakespeare's plays, as well as collections of short stories and poetry.
Ronk teaches Shakespeare, modern poetry and creative writing, and has served as advisor to the student literary magazine. She is a past winner of Occidental's Graham L. Sterling Memorial Award, presented in recognition of distinguished record of teaching, service and professional achievement.
The winners of the 64th National Book Awards will be announced on Wednesday, November 20.