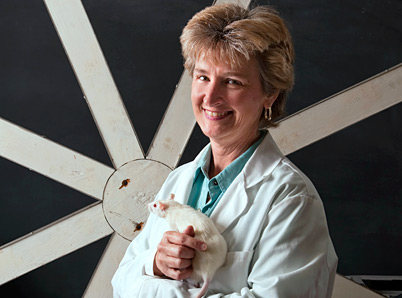 Occidental psychology professor Nancy Dess has been elected president of the American Psychological Assn.'s Division 3: Experimental Psychology.  
Dess will begin a year as president-elect this August, becoming president next August. The post will put her in a position to advocate for maintenance of a diversity-oriented mentoring program she has been involved in through the division.
Dess' work is rooted in the ancient underpinnings of mammalian behavior. Her focus is on eating and emotion--their interactions and role in human problems such as anxiety, depression, and eating disorders. A graduate of UCLA and the University of Minnesota, she teaches introduction to psychology, methods & statistics, perception, learning, evolutionary psychology, motivation & emotion, and writing seminars.
Division 3: Experimental Psychology members are employed in a variety of settings including universities, colleges, government, and industry and are united by their commitment to the development of experimental psychology as a science. The current president is professor Karen L. Hollis of  Mount Holyoke College.
Jorge G. Gonzalez, vice president for academic affairs and dean of the College, called Dess' selection "a great indicator of the status that she has in her field."