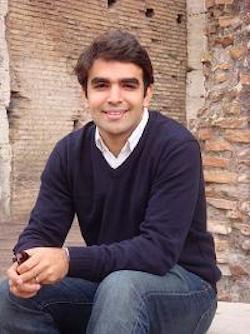 Occidental College's Hussein Banai is one of just six scholars worldwide who have been named Carnegie Council Global Ethics Fellows. 
The half-dozen will join the Council's Global Ethics Network, which currently consists of 32 scholars based in 15 countries: Argentina, Australia, Brazil, Canada, China, Denmark, Ghana, India, Israel, Japan, Poland, Singapore, South Africa, Turkey and the United States.
"I'm honored to have been nominated and selected, and I look forward to working with the Council over the next couple of years to facilitate discussions about ethics in international politics," said Banai, an assistant professor of diplomacy and world affairs.
Banai's research interests include democratic theory, diplomatic history and Middle East politics (with a special focus on politics in modern Iran). He is the co-author of Becoming Enemies: U.S.-Iran Relations and the Iran-Iraq War, 1980-1988, and has published widely in academic and professional journals on topics in diplomacy, U.S.-Iran relations and democratic development in the Middle East.  He also is a research affiliate at the Center for International Studies at MIT.
The Council's Global Ethics Network provides a platform for educational institutions around the world to create and share interactive multimedia resources that explore the ethical dimensions of international affairs.
"The Network gives students and scholars in every region of the world an exciting opportunity to explore ideas together. We are delighted to welcome these new Global Ethics Fellows and look forward to working with them and their students," said Senior Fellow and Senior Program Director Devin Stewart.
Banai's seat on the panel will last for three years.  As part of his participation, he must host at least one event (such as a lecture, seminar, panel discussion or workshop) per year at Occidental exploring the ethical dimensions of international affairs issues. He will also contribute quarterly to globalethicsnetwork.org and engage his students in activities on the website.
"Derek Shearer and I plan to host a workshop on 'The Practice of Diplomacy,' which will feature prominent diplomats and academics reflecting on the ethical dimensions of diplomacy. The workshop will likely be held the spring term," Banai said. "For the fall, I hope to bring a couple of speakers (one journalist, one academic) to discuss issues relating to wealth inequality and democratic movements in the Middle East." (Shearer is the Chevalier Professor of Diplomacy and World Affairs at Occidental and a former U.S. ambassador to Finland.)
Banai was born and raised in Tehran, where he lived until the age of 15. He earned his B.A. in political science at York University in Canada in 2003, his M.S. in international relations at the London School of Economics in 2005 and his Ph.D. in political science at Brown University in 2011. 
At Occidental, Banai is co-convener, together with Shearer, of the Craft of Diplomacy Initiative at the McKinnon Center for Global Affairs.
Founded by Andrew Carnegie in 1914, the Carnegie Council for Ethics in International Affairs is an educational, nonprofit, nonpartisan organization that produces lectures, publications and multimedia materials on the ethical challenges of living in a globalized world.