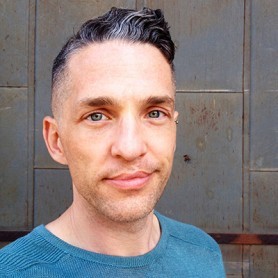 Associate professor and chair of the media arts and culture department Brody Fox's feature screenplay One Degree has won the feature script category in the University Film & Video Association's 2017 Juried Scriptwriting Competition.
The University Film and Video Association is one of the largest professional organizations and annual conferences for film and media studies, focusing on the creative, critical and pedagogical practices of college and university media professors.
This year's national conference was held at Cal State L.A., where hundreds of film and media professors convened for four days of screenings, script sessions, panels, workshops and lectures July 30-August 2.
Echoing the theme of this year's conference, Media Diversity: Inclusion and Convergence, Fox's screenplay features a young queer protagonist, a frustrated aspiring actor who invents a series of real-life alter-egos, challenging notions of identity, self and relationship in the process. 
"It was energizing to attend and participate in the conference and to engage with colleagues on the latest issues and best practices in media pedagogy," Fox says. "I had the opportunity to workshop this screenplay; to screen my latest documentary Zen & the Art of Dying; and to serve as the formal respondent to both another screenwriter and another filmmaker.
"Given the current sociopolitical state of America, the conference's focus on diversity really underlined the stakes and opportunities of our work as media educators. Winning this award, decided by a jury of my peers, is a real honor and a wonderful cap to a great conference."