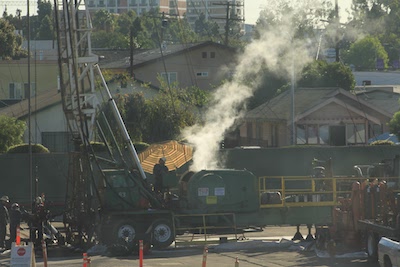 A study published in the International Journal of Environmental Research and Public Health this week reveals heightened rates of asthma in densely populated Los Angeles neighborhoods located near active oil-development sites. 
In addition, the study, co-authored by Bhavna Shamasunder, assistant professor of urban and environmental policy at Occidental College, shows that many South Los Angeles residents don't realize they live in close proximity to active urban oil wells and would not know how to contact regulators about the ill effects they suffer as a result.
The study, "Community-Based Health and Exposure Study Around Urban Oil Developments in South Los Angeles," examines oil development in South Los Angeles through self-reported community health surveys. Researchers from Occidental and the University of Colorado, Boulder teamed up with community residents and Promotoras de Salud (community health workers) to survey over 200 households (comprising 813 residents) located within 1,500 feet of two active oil wells, one in University Park and one in West Adams. The study authors also tested a low-cost method for identifying methane emissions from oil development in a neighborhood impacted by multiple pollution sources to better discern oil-related exposures. (Occidental geology professor James Sadd, research science specialist Jessica Blickley and  Marissa Chan '17 also contributed to the research.)
"Low-cost sensors may be useful in highlighting differences between sites or recording larger emission events and can provide localized data alongside resident-reported symptoms. Regulatory officials should help clarify information to the community on methods for reporting health symptoms," the report recommends. Ultimately, according to Shamasunder, "the study points to the need for public policy changes that support protective measures for public health in urban planning and zoning, including the requirement of safety buffers between sensitive land uses and active oil development in dense urban areas."
Many residents are unaware that Los Angeles contains 70 active oil fields. In Los Angeles County, 10 million people reside amid more than 5,000 active oil and gas wells, with approximately 850 active wells in the city of Los Angeles. Los Angeles requires no buffers or setbacks from oil-development operations; the county and city allow very close distances between residents and extraction sites. 
According to Shamasunder's study, in some neighborhoods, residences are located just three feet away from the boundary of an active drilling and/or production site, with the wellheads as close as 60 feet from the residence. In neighborhoods such as South Los Angeles, wells are located near a dense residential population and sensitive land uses such as childcare centers, schools, urban parks and playgrounds, and senior residential and healthcare facilities.
The survey data reveals that physician-diagnosed asthma rates were higher within both neighborhoods  than in Los Angeles County. Asthma prevalence in West Adams was significantly higher than in Los Angeles County. Residents living near active oil wells and production facilities in Los Angeles often note symptoms such as nosebleeds, headaches and worsened asthma, according to the study.
"When a community's adverse health experiences are labeled as 'unsubstantiated' and easily dismissed by the oil industry, it is so critical to have these quantitative findings of significant health impacts around active drill sites," said study co-author Nicole Wong. "In public health, we know that proximity matters, and this paper adds to the growing scientific literature that a strong setback policy between these toxic sites and sensitive land uses is absolutely necessary to adequately protect human health and safety."
"There is little environmental or public health data on the consequences of oil development in urban core cities, such as Los Angeles," said Shamasunder. "We have multiple studies in more rural areas that have shown that oil and gas development is associated with degraded air quality and exposure to air pollution as well as exacerbated respiratory conditions and asthma. We can only assume that same risk is magnified in more densely populated areas."
The study also gathered qualitative information about community knowledge of and experiences living near oil-development sites. A full 45 percent of respondents were unaware of oil development in their neighborhoods; 63 percent of residents would not know how to contact local regulatory authorities in the event of an emergency.
"After going door-to-door, engaging hundreds of residents, we heard first-hand from families about their health concerns about living extremely close to an oil-drilling site," said Sandy Navarro, lead organizer and Promotora de Salud who led the on-the-ground survey effort.
Finally, the study authors tested a low-cost method for identifying methane emissions from oil development in a neighborhood impacted by multiple pollution sources to better discern oil-related exposures.
The study concludes with several recommendations, including:
·      the use of low-cost air-pollution sensors to highlight differences between sites, record larger emission events and provide localized data alongside resident-reported symptoms,
·      better community education on methods for reporting health symptoms, foul odors and emergency protocols and
·      the need for a safety-buffer policy to create more distance between active oil development and sensitive land uses.
Read the full study here.