Submitted by kwall_admin on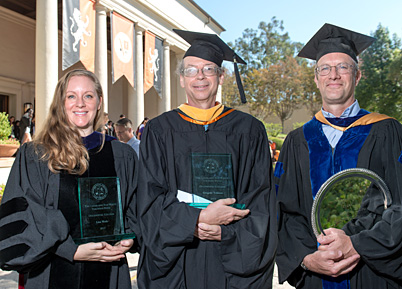 Three Occidental professors were honored with the College's top teaching awards at the Convocation ceremony August 28. 
Physics Professor Daniel Snowden-Ifft received the Graham L. Sterling Memorial Award, and mathematics Adjunct Assistant Professor Gregory Tollisen and sociology Associate Professor Lisa Wade were honored with the Linda and Tod White Teaching Prize.
Established in 1972 in memory of former College trustee Graham Sterling, the Sterling Award is presented each year to a professor with a distinguished record of teaching, service, and professional achievement. The White Teaching Prize is awarded to faculty members nominated by students for engaging teaching methods and effective intellectual or scholarly mentorship. The prize is made possible by a generous gift from trustee emeritus Tod White '59 and his wife Linda White.
Daniel Snowden-Ifft joined the Occidental faculty in 1997 and quickly established a rigorous research program focused on the search for dark matter. He and his students built one of the only directional dark matter detectors in the world – and, according to Snowden-Ifft, by far the best.
Snowden-Ifft has published over 50 scientific papers, using 36 Occidental undergraduates as co-authors. "Students seek him out as a mentor," said Jorge Gonzalez, dean of the College. He has received more than $2 million in grants from the National Science Foundation and other groups in support of his research, and twice has served as chair as the physics department.
In addition, Snowden-Ifft was the driving force behind Occidental's innovative new 1-megawatt hillside solar array.
"Oxy has helped me to dream big and work hard," Snowden-Ifft said in accepting the Sterling award.
Gregory Tollisen began teaching math at Occidental in 1996. "Students say he has unlimited patience," Gonzalez said. "That he doesn't let them leave his office until they fully understand the material."
"Math has been my passion since I was a child. Math is magic," Tollisen said in accepting the White Prize. "Mathematics for me was a vehicle to learn how to teach. Teaching and learning are two sides of the same coin to me. It's all fascinating."
Sociology Associate Professor Lisa Wade came to Occidental in 2006. She focuses on gender issues and is noted for her blog Sociological Images, the most widely read sociology blog on the Web, Gonzalez said. She is a regular contributor to Ms., Jezebel, Salon, Slate and other publications.
In her classes, "She sets the bar much higher than students think they can ever achieve, and then she helps them reach that bar and exceed that bar. Students talk about how she encourages them to set higher and higher goals for themselves." Her classes tackle "difficult, personal issues," Gonzalez said.
"I hope to see many of you in my classes," Wade said. "I'm so excited that it's your first day of school."