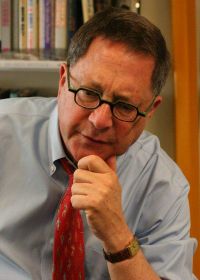 "Is Public Education Dead?" is the provocative question David Kirp, James D. Marver Professor of Public Policy at UC Berkeley, will address in a 7 p.m. lecture on Wednesday, Sept. 17 in Choi Auditorium. The talk is free and open to the public.
Kirp is a policy consultant and former newspaper editor as well as an academic. In his 17 books and scores of articles, in both the popular press and scholarly journals, he has tackled some of America's biggest social problems, including affordable housing, access to health, gender discrimination, and AIDS.
Throughout his career, his main focus has been on education and children's policy, from cradle to college and career. He was a member of the 2008 Presidential Transition Team, where he drafted a policy framework for early education. 
His latest book, Improbable Scholars: The Rebirth of a Great American School System and a Strategy for America's Schools, named outstanding book of 2013 by the American Education Research Association, chronicles how an urban school district has brought poor Latino immigrant children, many of them undocumented, in the education mainstream.
Kirp's talk is sponsored by the Politics, Education, and Urban & Environmental Policy departments, and supported by the Remsen Bird Fund.