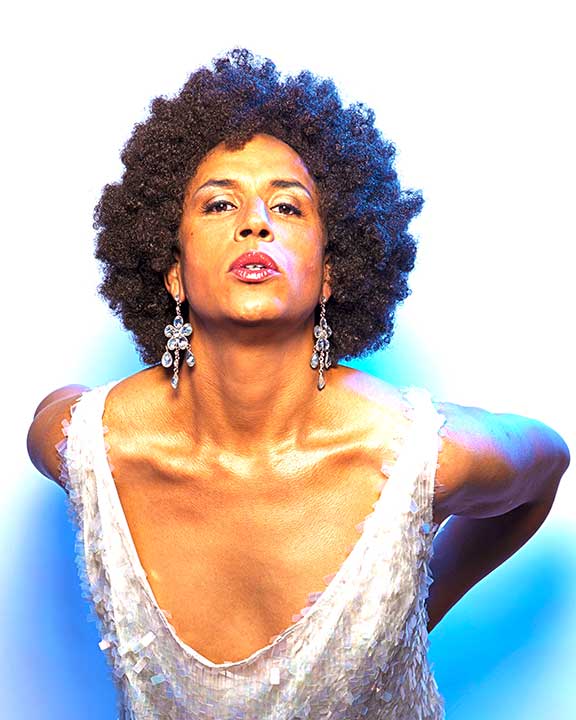 Interdisciplinary theater artist Daniel Alexander Jones will bring his JOMAMA JONES: RADIATE – the triumphant return of the legendary soul singer you can't quite remember, but will never forget – to Occidental College's Thorne Hall for one night only on Sept. 26 at 7:30 p.m.
Decades after her departure from the spotlight, Jomama Jones returns to Eagle Rock for a one-night stand as part of her American comeback tour. Rooted mysteriously in the sounds of the 70's and 80's, this soul sonic superstar promises an intimate concert awash in love and light, reminiscent of Diana Ross, Josephine Baker and Teena Marie.
Conceived by Jones with Bobby Halvorson, JOMAMA JONES: RADIATE is an interactive concert event -- part happening, part revival, a whole lot of risk -- in which Jones takes us on a hilarious and inspiring journey of story, song and self-discovery. The New Yorker called JOMAMA "superlative … a great show," while the Feminist Spectator hailed it as "an incomparable performance art/concert … it's easy to forget that she's not, well, real."
Ticket prices are $5 to $15. Contact the Occidental box office at theater@oxy.edu or (323) 259-2922 for more information.
Jones is the Occidental College Theater Department's 2014 G. William Hume Fellow in the Performing Arts, with additional sponsorship from the Politics Department and the Intercultural Center. As Hume Fellow, he will be in residence Sept. 23-29, making a campus-wide presentation, visiting classes, and offering a two-day workshop for students on the theatrical jazz aesthetic.
In his "An Integrator's Manual" on Sept. 23, Jones will read selections from pieces he created over the past 20 years and will discuss his journey as an independent artist who was part of the post-Civil Rights "integration generation," considering questions of motivation, sustainability and community. The 11:45 a.m. presentation in Lower Herrick is free and open to the public.
Daniel Alexander Jones is an award-winning independent American artist whose practice includes performance, writing, composition and direction. He has performed across the country and internationally in London, Manchester, Leeds and Dublin. Daniel's other performance pieces include the multi-chapter autobiographical work, The Book of Daniel. Jones is a noted contributor to the evolving method of theatre making known as the jazz aesthetic and his plays have been produced in Austin, Minneapolis, Boston and Atlanta.
Every two years, Occidental is able to bring a well-known and exciting classical music artist or group to campus through the G. William Hume Visiting Arts Fellowship. Opera star Frederica von Stade, percussionist Evelyn Glennie, pianist Awadagin Pratt, the Flying Karamazov Brothers and  Culture Clash are among previous Hume fellows. The fellowship is funded through the G. William Hume Trust, named for Bill Hume '50, a former College dean of students, professor, and director of Thorne Hall.