Submitted by kwall_admin on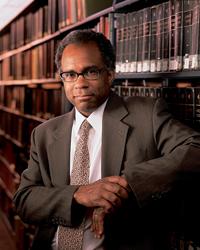 Harvard legal scholar and prize-winning author Randall L. Kennedy will be the featured speaker at Occidental College's 134th Commencement ceremony on Sunday, May 15.
Kennedy, the Michael R. Klein Professor of Law at Harvard Law School, is an expert on the intersection of race and the law and a prolific author, whose most recent books include For Discrimination: Race, Affirmative Action, and the Law (2013); The Persistence of the Color Line: Racial Politics and the Obama Presidency (2011); and Sellout: The Politics of Racial Betrayal (2008).
A native of South Carolina, he attended Princeton University (where he is a trustee), the University of Oxford and Yale Law School. He served as a law clerk for Judge J. Skelly Wright of the U.S. Court of Appeals and for Supreme Court Justice Thurgood Marshall. He is a member of the bar of the District of Columbia and the U.S. Supreme Court.
Awarded the 1998 Robert F. Kennedy Book Award for his volume Race, Crime, and the Law, an examination of how race is and should be involved in meting out criminal justice, Kennedy also writes for a wide range of scholarly and general interest publications.