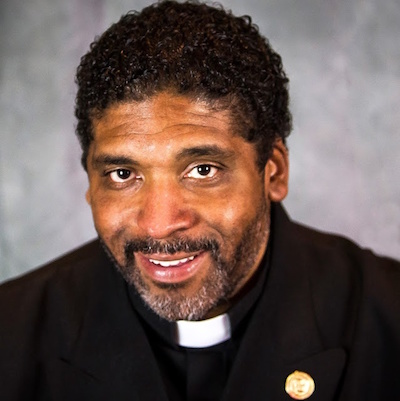 Fifty years after the Rev. Martin Luther King spoke from the same podium, North Carolina NAACP leader and activist Rev. Dr. William Barber will speak on "Revival, Resilience, Redemption after Rejection: Analyzing the 2016 Election and How to Move Forward" in Occidental College's Thorne Hall on February 1. The 7 p.m. talk is free and open to the public. 
Occidental will present Rev. Dr. Barber with an honorary degree prior to his talk. He will sign copies of his latest book, The Third Reconstruction: How a Moral Movement Is Overcoming the Politics of Division and Fear following the program. (Copies will be available for purchase.)
 
Rev. Barber, president and senior lecturer of Repairers of the Breach, president of the North Carolina NAACP, member of the NAACP national board, and convener of a statewide coalition of more than 200 progressive groups, drew international attention with his stirring speech to the 2016 Democratic convention.
A resident of Goldsboro, N.C., where he has pastored at Greenleaf Christian Church for two decades, Rev. Dr. Barber has been a leading advocate for voter rights, educational equality, health care reform, labor rights, LGBTQ rights, and immigration reform. Like Dr. King – who spoke on "The Future of Integration" at Occidental on April 12, 1967 -- he has been arrested multiple times for acts of peaceful civil disobedience in pursuit of social justice.
In addition to his work with the North Carolina NAACP – the country's second largest state conference -- Rev. Barber is the convener of the Historic Thousands on Jones Street coalition that claims more than 2 million members and leader of the Moral Monday movement, a multi-racial, multi-generational interfaith effort to address issues of poverty, racism and other issues.
As pastor of Greenleaf Christian Church, Barber has led the congregation's effort to build more than 60 homes for low- to moderate-income families, a 41-unit seniors home, a 90-student preschool academy and a community center that houses an academic afterschool program, a computer lab for youth and adult training, and an HIV/AIDs information and testing center.
When he was very young, Rev. Dr. Barber and his parents moved to North Carolina from Indiana after having been recruited to help integrate the state's public schools. (His father served as the first African-American in the department of general science and physics at Washington County's white high school, while his mother became its first black office manager.)
A graduate of North Carolina Central University, Rev. Dr. Barber received a master of divinity degree from Duke University and a Ph.D. in public policy from Drew University. He is the recipient of the Order of the Long Leaf Pine, North Carolina's highest citizenship award presented to North Carolinians who have a proven record of service to the state, as well as the National NAACP's Juanita Jackson Mitchell, Esq. Award for legal activism.
His appearance at Occidental, which kicks off the college's observance of Black History Month, is cosponsored by Associated Students of Occidental College; Black Student Alliance; Asian Pacific Americans for Liberation; Diversity & Equity Board; J-Street; the Politics and Urban and Environmental Policy departments, and the Office for Religious and Spiritual Life.
Community co-sponsors include the Los Angeles Alliance for a New Economy; Clergy and Laity United for Economic Justice; the Los Angeles County Federation of Labor; the Black Worker Center; the Southern Christian Leadership Conference; and the Coalition for Human Immigrant Rights in LA.
Previous recipients of Occidental honorary degrees include civil rights figures such as Marian Wright Edelman, Angela Oh, Constance Rice, Rev. James Lawson Jr., Angelica Salas '93, Father Gregory Boyle, and Odessa Woolfolk.