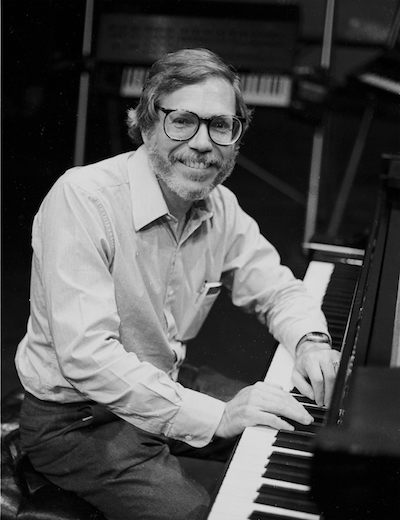 Occidental College Professor of Music Emeritus Richard Grayson, renowned for his improvisational skills featured at his annual Thorne Hall concerts, died July 3 after a long illness. He was 75.
A native of New York and a graduate of UCLA, Grayson earned his master's at the University of Chicago and his Ph.D. in music composition at UCLA. He joined the Occidental faculty in 1969 and taught composition and theory until his retirement in 2001. He was awarded the 1972 Faculty Achievement Award and the Alumni Seal Award for faculty in 2001, and was the recipient of a Fulbright Fellowship to Belgium and a composition grant from the National Endowment for the Arts.
An internationally known performer, teacher, composer and recording artist on the piano, organ, and synthesizer, Dr. Grayson was perhaps best known for his remarkable improvisational skills. For 32 years, he filled Thorne Hall with his annual improvisation and electronic music concert in which he fielded increasingly improbable requests from the audience: "Chopsticks" in the style of Charles Ives, Otis Redding's "Respect" in the style of Franz Liszt, or "Shave and a Haircut" a la Jean-Philippe Rameau.
Grayson remained active throughout his retirement, teaching at Crossroads School in Santa Monica, playing the organ at St. Martin of Tours Catholic Church in West Los Angeles and performing around the country and in Japan, China and Vietnam.
Survivors include Susan Grayson, his wife of 46 years and professor of Spanish and French studies at Occidental; a brother and sister; two nephews; a niece; and two great-nephews. A memorial service is scheduled for 2 p.m. on Saturday, January 14, 2017 in Herrick Chapel on the Occidental campus.