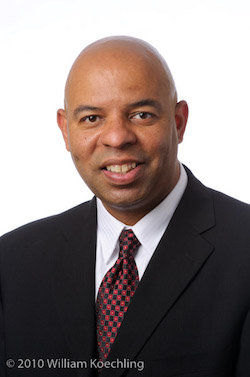 Rob Flot, vice president of student affairs and dean of students at Lake Forest College, has been named Occidental College's vice president for student affairs and dean of students after a national search. 
Flot is the successor to Barbara Avery, who left Occidental in October 2015 to become vice chancellor for campus inclusion and student life at the University of Michigan-Flint. Flot's first day in his new role will be July 1, 2017.
Flot was named vice president and dean at Lake Forest in 2015 after six years of service as dean of students at the small residential liberal arts college just north of Chicago. First hired as the college's director of intercultural relations in 2004, Rob also has served as associate dean of students and senior associate dean. Previously, he was coordinator of multicultural recruitment, retention and learning at the Illinois Mathematics and Science Academy and a senior staff counselor, assistant director of student counseling and diversity training coordinator at Illinois State University.
"In a strong group of candidates, Rob stood out for a number of reasons," said Occidental President Jonathan Veitch. "The depth and breadth of his experience in a liberal arts setting dealing with every aspect of student affairs, including working effectively with culturally diverse communities, is impressive. Equally so is his keen understanding of how all the different parts of a college contribute to student success. His academic training in psychology with a focus on late adolescence and early adulthood development adds to his perspective. And he combines a collaborative approach and passionate engagement with students with a calm, thoughtful demeanor."
"I'm extremely pleased and honored to join the Oxy family and contribute to its growth and evolution," said Flot. "There's a lot about Occidental that's impressive. However, I'm most impressed with the students. I've found Oxy students to be curious, involved, and compassionate. I look forward to being highly visible and active on campus, and closely engaged with the student body."
A native of Illinois, Rob earned his BA in psychology and his master's in clinical psychology from Eastern Illinois University. He completed all but his dissertation in a doctoral program in counseling psychology at Indiana State University. He has two sons: Rob II, a graduate of a small liberal arts college, and River, a high school senior.