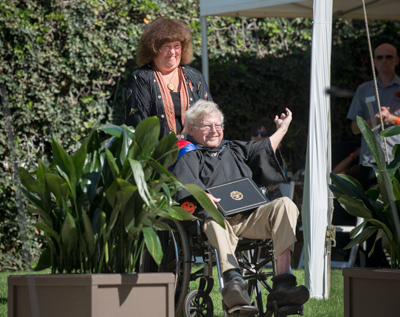 Longtime Occidental College politics professor Roger Boesche, revered by generations of Oxy students and credited by President Barack Obama '83 for sparking his interest in politics, died in his sleep at home May 23. He was 69.
A public celebration of Boesche's life was held on Saturday, July 8 in Thorne Hall on the Occidental campus. You can see a video of the program here.
Having announced his retirement as Arthur G. Coons Professor in the History of Ideas after 40 years of teaching, Boesche, accompanied by his wife Mandy, was saluted with a standing ovation at Occidental's May 21 Commencement ceremony.
"We have learned from Mandy that Roger's last words were about Oxy and his time at the College, and that in a lifetime of memorable moments, Sunday's outpouring of love and respect from the Oxy community was the icing on the cake," Occidental President Jonathan Veitch said in a campus message announcing Boesche's death. "Roger's impact on our community was profound. He will be deeply missed." 
Boesche was best known as Obama's favorite college professor, a distinction noted in obituaries published in the Los Angeles Times, the New York Times, and the Washington Post. "Your classroom is where my interest in politics began," Obama said in a May 2016 note congratulating Boesche on his retirement plans.
"Posing questions that have challenged societies through the ages, your teaching and research remind us of the importance of constant inquiry and debate—lessons that are at the core of our democracy and that I've drawn on throughout my life, particularly in this Office," the president wrote.  "You helped instill that passion for ideas not only in me, but also in the generations of students who found in your courses inspiration that would guide them forward."
During a 2009 visit in the Oval Office, Obama introduced Boesche to his staff by saying, "Professor Boesche taught me everything I know about politics," adding with a laugh, "But he gave a me a 'B' on a paper!" Boesche explained his side of the story in a 2016 interview with Occidental magazine: "He said, 'Why did I get this grade?' and I said, 'Well, frankly, I think you're really brilliant, but you don't work hard enough.'"
Of course, the president was just one among many alumni whose lives Boesche had touched. As Mac Larsen '17, a politics major from Portland, Ore., put it in a Facebook post: "Barry can get in line with the rest of us who thought of him so highly."
"Roger changed my life, from the very first class, to the day I graduated, everything I learned from him shaped who I am today," Janette Sadik-Khan '82, former New York City transportation commissioner and principal of Bloomberg Associates, told the Los Angeles Times. "It was not only about political theory. It was about ideas, about society, community and public service."
A scholar of de Tocqueville and theories of tyranny, Boesche was renowned for his ability to make the complex comprehensible. "He recounted the great people and ideas in political philosophy with an uncanny knack for story telling that made even Kant and Hegel accessible," Joe Dingman '13 said in a Facebook tribute.
Diagnosed with rheumatoid arthritis as a teenager, Boesche refused to give in to the disease that eventually shrank his 6'1" frame by a full foot, traveling with his family to more than 120 countries. "His daring travels through mountains, rocky roads, and caves in his wheelchair taught me that with enough determination and resilience anything is possible," Jenna Mowat '16 posted. "I feel so fortunate to have had the opportunity to learn from this brilliant, sincere and kind-hearted man."
Born in Tulsa, Okla., Boesche went to Stanford University, where he earned his undergraduate and doctoral degrees in political science, and met, fell in love with and married the former Mandy Reynolds. At Oxy, he served as president of the Faculty Council and won every major teaching award, including the Loftsgordon Memorial Award for Outstanding Teaching in 1981 and 1997; the Sterling Award, Oxy's most prestigious faculty honor; and the Tod and Linda White Teaching Prize.
Boesche is survived by his wife, Mandy, and daughter Kelsey. The family has asked that memorial gifts be made to Occidental College.