Submitted by kwall_admin on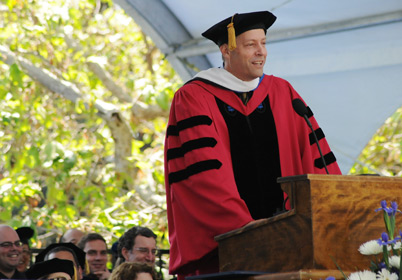 Oxy President Jonathan Veitch receives an honorary degree from traditional rival Pomona College.
Honored as a scholar, teacher, and friendly rival, Occidental President Jonathan Veitch received an honorary degree from Pomona College at its 119th commencement ceremony.
Choosing to ignore Veitch's comment about "dead Sagehens" in his 2009 inaugural address, Kevin Dettmar, Pomona's W.M. Keck Professor of English, instead focused on the fact that Veitch had taught at Pomona as a visiting instructor 20 years ago and praised his "brilliant" 1997 book, American Superrealism: Nathanael West and the Politics of Representation in the 1930s.
On his part, Veitch reassured his audience that "I can say with confidence that there is nothing a Tiger loves more than a Sagehen—for dinner, or just about any meal." Despite an athletic rivalry that dates back to 1895—Southern California's oldest—"Pomona and Occidental remain committed to the transformative power of a liberal arts education," the Oxy president noted.
Veitch also paid tribute to Pomona President David Oxtoby, "who has, from the moment of my arrival at Occidental, served as both a mentor and a friend … I have been inspired by his example."