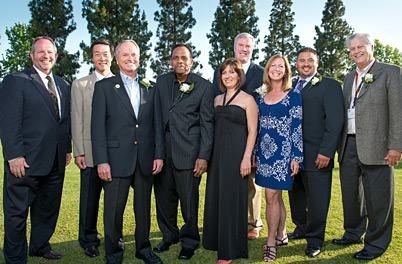 Occidental College's Alumni Association on June 16 honored a NASA engineer, an award-winning Occidental professor, a leading researcher on malaria prevention, and the principal of a high-achieving high school in South Los Angeles with its top honor, the 2012 Alumni Seal Award.
Silva Zeneian '01 and Jeff Dennis '94—past and current presidents of Occidental's board of governors—presented George Alcorn '62, Mary Hamel '87, Eric Newhall '67, and Esau Berumen '97 with the awards during the grand opening dinner for the Samuelson Alumni Center. Also honored at the gala ceremony, which was part of the College's annual Alumni Weekend, was Alumnus of the Year Chris Calkins '67 and Auld Lang Syne Award winners Patricia Yeomans '38 and Jack Samuelson '46.
The Alumni Seal Awards pay tribute each year to Occidental alumni who, through their concern for their profession, community, and College, have distinguished themselves and have thereby brought honor to Oxy.
Alcorn was presented with the 2012 Alumni Seal Award for Professional Achievement. At NASA's Goddard Space Flight Center, he invented the imaging X-ray spectrometer, a major innovation that helps scientists better understand the composition of planetary material. In 2010, Alcorn received the Robert H. Goddard Award of Merit, the flight center's highest award, for that invention. In addition to his NASA work, Alcorn is an engineering professor at the University of the District of Columbia, and founded the Saturday Academy, a math and science program for urban middle-schoolers. A star athlete at Occidental, he received a Ph.D. in atomic and molecular physics and a master's degree in nuclear physics from Howard University.
Hamel received the 2012 Alumni Seal Award for Service to the Community for her groundbreaking work in malaria research and prevention. A medical epidemiologist in the Centers for Disease Control's international health program office, Hamel led a multi-agency effort to reduce malaria-related illnesses and deaths in Kenya. She is now the principal investigator for a malaria vaccine trial that's considered a top medical breakthrough. After graduating with a biology degree from Oxy, Hamel earned her M.D. at the University of Vermont School of Medicine and completed her residency in internal medicine at the University of Colorado's Heath Science Center.
Winner of the 2012 Alumni Seal Award for Service to the College, English and American studies professor Eric Newhall has been instrumental in the success of the College's Multicultural Summer Institute, a five-week program for 50 incoming low-income first-year students that he founded and directed. He is a five-time winner of the College's Loftsgordon Award for Outstanding Teaching, and in 2004, Newhall was one of 10 faculty members recognized by the National Resource Center for the First-Year Experience and Students in Transition as "outstanding first-year student advocates."
A former star football player at Occidental, Berumen receieved the 2012 Erica J. Murray '01 Young Alumni Seal Award for his work at Hawthorne Mathematics and Science Academy, a high-achieving charter high school whose student body is mostly low-income or working class Latinos. Almost all of HMSA students go on to college—due in large part to the school's high academic expectations and the guidance of Berumen and the school's teachers.
Calkins '67, named Alumnus of the Year, has vast legal and business experience. He is currently president of Carltas Management and general counsel to Paul Ecke Ranch. He has been part of the President's Cabinet at Occidental for many years, an alumni trustee for five years, and a member of the board of trustees for the last three years. Over the years, he has given not just his financial support but his time and expertise in guiding and advising the leaders of the College.