Submitted by kwall_admin on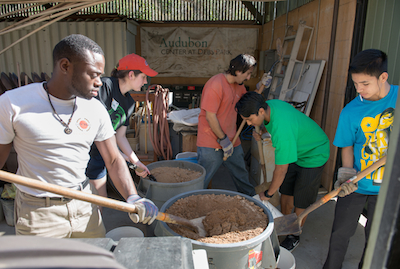 Occidental College's annual Martin Luther King Jr. Day of Service will be held this year on Saturday, January 23, 2016. 
Each year, hundreds of students, faculty, alumni and staff fan out to more than a dozen locations across Los Angeles to weed and plant gardens; canvass neighborhoods; and clean, repair and paint local schools and community-based organizations.
Held the Saturday after Martin Luther King Jr. Day, the day has become a hallmark event for Occidental students. Coordinated by the Office of Community Engagement with campus partners such as the Office of Religious and Spiritual Life, the Office of Student Life, Alumni Affairs and Residential Education and Housing Services, the event attracts upwards of 200 participants each year who engage in community-based projects in honor of Dr. King's spirit of service and peace.
Many of the community partners have well-established relationships with Occidental, and the College strives to sustain these relationships by creating mutually beneficial projects and educational opportunities for students.
"I'm always heartened by how many students go back and continue to volunteer with our partners as individuals and as groups. This is what we hope for the most -- that this day propels students to make long-lasting and reciprocal partnerships with local organizations," said Assistant Dean for Community Engagement Ella Turenne.
Students are provided with the opportunity to become familiar with important community-based work, and some even decide to return as volunteers or interns. By coordinating projects that offer meaningful co-curricular learning while benefitting the community, the MLK Day of service upholds Oxy's mission of excellence, equity, community, and service.
While many of the Occidental volunteers labor at public schools, churches, and community centers in Eagle Rock, others work in Glendale, Pasadena, South Pasadena, downtown Los Angeles, and as far afield as the Wildlife Waystation in Tujunga. This year's volunteer sites include A Community of Friends, the Audubon Center at Debs Park, the California Coastal Commission, CERB, Eagle Rock High School, Food Forward, Fountain Community Gardens, Girls on the Run of Los Angeles County, Hathway Sycamores, Legacy L.A., Florence Firestone Community Garden, Willowbrook Community Garden, MEND, the ROCK Community Center and Rockdale Elementary School.