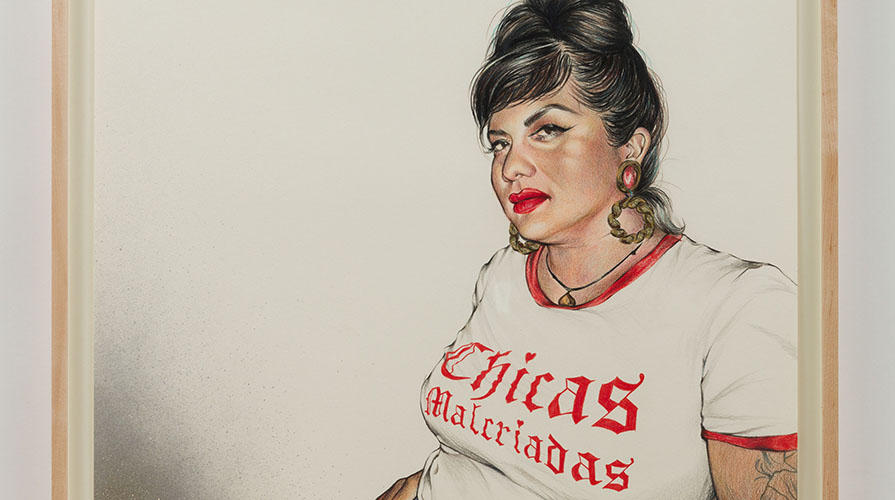 Los Angeles visual artist Shizu Saldamando's newest solo exhibition, "Shizu Saldamando: L.A. Intersections," opens February 6 in the gallery of Occidental College's Oxy Arts community art center on York Boulevard in Highland Park.
The exhibition is free and open to the public, with a special DJ set by Crasslos and snacks by East Los Musubi.
Saldamando, named by ARTnews as "One of 15 Los Angeles Artists To Watch" in 2019, is the latest acclaimed local artist to serve as a year-long Artist-in-Residence at Occidental through the Wanlass Residency Program. Among the meticulously rendered multimedia portraits in the show is one of Rafa Esparza, Occidental's 2016-17 Wanlass Artist.
The exhibition period, which runs through April 17, will feature related programming by local artists and performers who share Saldamando's sensibility, many of whom were guests in the Occidental studio art class she taught this fall, "Art Outside The Bounds."
Saldamando built her career on her depiction of L.A. communities underrepresented in fine art: people she met at house parties, music shows, dance clubs, and other hangouts in East and South L.A. "I hope to show a broader idea of who can inhabit art and who creates culture," she says. "My overall objective is to create images with unconventional materials, honoring people and moments that resist categorization and question the existing archetypal and hierarchical norms."
"Seeing ourselves reflected in the culture was always important, and Shizu gets that," poet Raquel Gutierrez wrote last year in the Los Angeles Review of Books. "Shizu has always had the ability to home in on her subjects' individual modes of resistance — a faraway look, a defiant smirk, a swirling sea of baby blue tulle."
More recently, Saldamando has begun to focus her work more on the creative people she knows and admires, fellow artists like Esparza and Ramiro Gomez, Jr., whose portraits also appear in the show.
A native of San Francisco, the child of parents of Japanese and Mexican descent, Saldamando moved to L.A. to major in art and minor in Chicano studies at UCLA. While a student, she interned at Self Help Graphics, then in East L.A., getting a unique introduction to the city during the long bus rides from the Westside to the Eastside. She later landed a job at Self Help Graphics out of school.
Saldmando's portraiture employs painting and drawing on canvas, wood, paper and cloth, and has been exhibited at the Smithsonian's National Portrait Gallery, the Venice Biennale official collateral exhibition and the Los Angeles County Museum of Art, as well as in solo exhibitions across the country.
The February 6 opening reception will begin at 6 p.m. at the Oxy Arts Gallery, 4757 York Blvd.
Related programming will include:
The Wanlass Artist-in-Residence is Oxy Arts' residency program that allows an artist to investigate aspects of their practice and share it with the College community campus-wide through a fall semester teaching course and a spring semester solo exhibition. The program encourages cross-campus collaboration and thoughtful sustained interaction between the artist, students and the community. Previous Wanlass Artists-in-Residence include Candice Lin, Kenyatta A.C. Hinckle, and Rafa Esparza. The Wanlass Artist in Residence Program is made possible by generous support from the Kathryn Caine Wanlass Charitable Foundation.