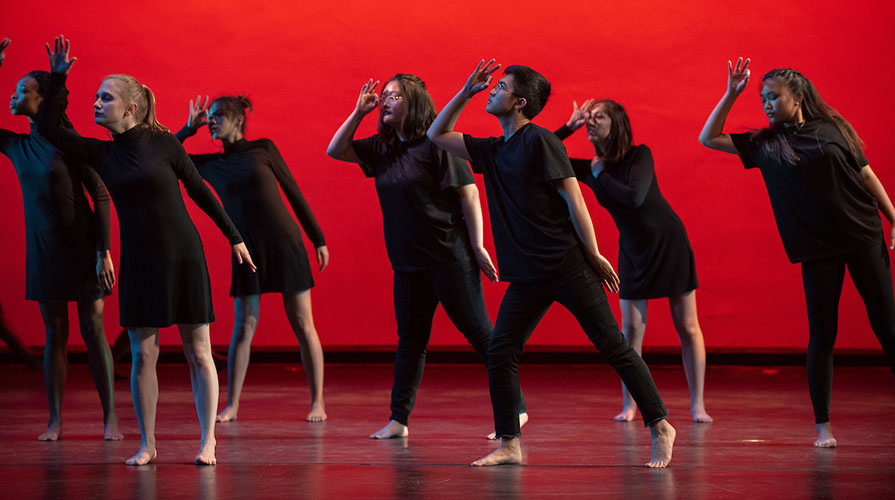 Dance Production returns to the (virtual) stage for its 2021 performance on April 16 and 17, featuring a variety of student-choreographed dances.
When Jillian Kuo and Molly McCorkle took the reins as Dance Production co-presidents in May 2020, they weren't sure what the following spring would look like. COVID-19 had upended that year's Dance Production show, and nearly 200 student dancers and choreographers had to focus on booking plane tickets home and adapting to remote classes. Now, with a full grasp on navigating remote settings, Dance Production is set to present a virtual show featuring various styles of dance on April 16 and 17.
"We told this year's e-board to prepare for every scenario, so literally since May we have been conducting virtual rehearsals and virtual bonding events with choreographers and dancers," says McCorkle. Connecting students who had previously participated in Dance Production was not as challenging as recruiting new members, but the e-board was able to bring in more than 20 first-year students to join the tradition. 
"Recruiting has been similar to previous years in that we've always used our Instagram page and word of mouth. We're also really close with the other dance organizations on campus and we reached out to cultural clubs as well, because we really want to celebrate the diversity that Oxy has," explains Kuo.
This year's show will consist of 10 dance performances created by 12 choreographers, from hip hop and contemporary to K-pop, Ballet Folklorico and Broadway. "One of the pluses for this year," says McCorkle, "is that anyone around the world will be able to watch, which is different from people having to fly out to see family members perform. It's going to be more accessible, which is really exciting."
Shows will take places on April 16 at 6pm PDT and April 17 at 12 pm PDT. Online tickets are now available. If you are an Oxy department or office that would like to purchase tickets in bulk, please contact dancepro@oxy.edu.