Submitted by kwall_admin on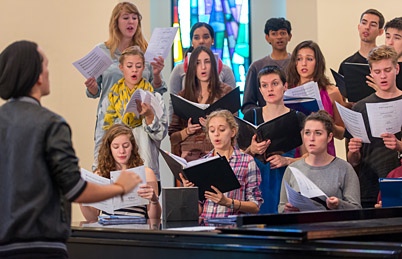 The Occidental College Glee Club will bring its signature blend of classical and contemporary masterpieces on its January 13-18 tour of Arizona.
Directed by Desiree La Vertu, the 40-member Glee Club will stop and perform in Hemet, Calif., on Sunday, January 13 on its way to sing in Phoenix on Tuesday, January 15 and in Flagstaff on Friday, January 18.
Each concert – free and open to the public – will feature the a capella glories of Victoria, Arcadelt, Rheinberger, Brahms, and Morten Lauridsen; Verdi's classic "Va, Pensiero" and Schumann's "Zigeunerleben"; folk songs from South Africa, Scotland, Russia, and India; and traditional American spirituals.
The concert schedule is as follows:
Sunday, January 13: 3 p.m., Church of the Good Shepherd, 308 E. Acacia St., Hemet
Tuesday, January 15: 7:30 p.m., Camelback Bible Church, 3900 E. Stanford Dr., Paradise Valley
Friday, January 18: 7:30 p.m., Nativity of the Blessed Virgin Mary Chapel, 16 W. Cherry Ave., Flagstaff
Touring is a century-old tradition for the Oxy Glee Club, which has performed internationally as well as around the United States and whose music has been featured in several movie soundtracks.