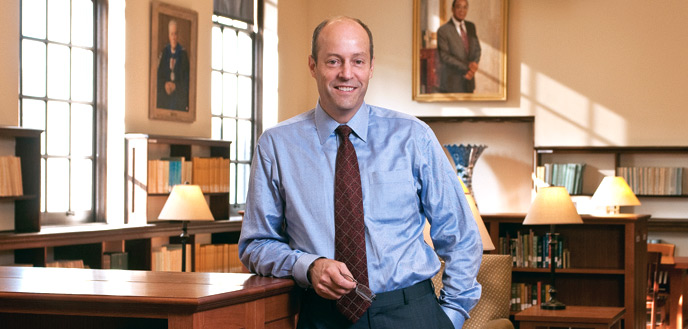 The Occidental College Board of Trustees has unanimously voted to extend President Jonathan Veitch's contract through 2020.
Board Chair Christopher Calkins '67 announced the extension in an email to the Oxy community today, saying that the trustees based their decision on Veitch's impressive record of accomplishments during a challenging time for Oxy.
"Working with all campus constituencies, the president and his administration have not only met those challenges, but with vision and drive have reestablished institutional momentum in a number of key areas," Calkins said. "Jonathan's able leadership will continue to provide Occidental the administrative stability, vision and forward momentum it needs and deserves."
In his own message to the Oxy community, Veitch said he was "excited and humbled" by the prospect of a second term and laid out his priorities for the next six years. These include building Occidental's endowment, transforming the library into a technologically sophisticated academic commons, and continuing efforts to raise money for student scholarships.
Working together, Veitch told students, faculty, staff and alumni, "we will lift up this great institution to become one of the most dynamic liberal arts colleges in the country."
Veitch took office as Occidental's 15th president in July 2009 at the nadir of the recent recession. He immediately began working with the college community to draft a strategic plan that helped reestablish Oxy's institutional momentum. The past five years have seen the completion of a series of important capital projects, including the McKinnon Center for Global Affairs; a string of significant faculty hires; increased alumni engagement; and more than $90 million raised to pay for these and future improvements.
At the same time, Occidental has increased its ties to Los Angeles by expanding its network of partnerships with regional cultural institutions. Significant new resources have been committed to internship and career discernment programs to better prepare students for life after graduation.
Occidental has taken major steps to address the important and often controversial issue of sexual misconduct. Oxy has initiated a slate of reforms including the revamping of its sexual misconduct policy; hiring a full-time Title IX coordinator and a survivor advocate; installing a 24-hour hotline for victims; and expanding mandatory preventative education programs for students.
A Los Angeles native and graduate of Stanford University, Veitch received his Ph.D.  in the History of American Civilization from Harvard. He taught at the University of Wisconsin, Madison before joining The New School's Eugene Lang College in New York, where he served as chair of humanities and associate provost before his five-year term as dean of the college.