Submitted by kwall_admin on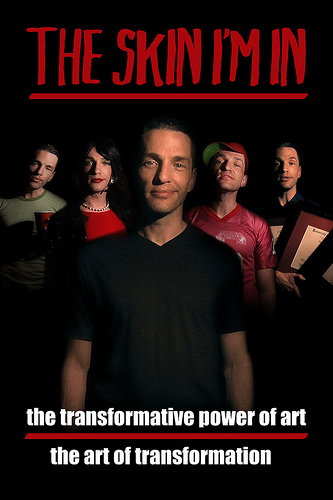 Following a festival run that spanned 18 cities in 11 countries, Occidental film professor Broderick Fox's prize-winning documentary, The Skin I'm In, will close its run with an October 6 Los Angeles showing as part of the Los Angeles Film Forum at the Egyptian Theater in Hollywood. 
The film is an autobiographical documentary detailing Fox's 2005 brush with death in Berlin and his subsequent search for self and spirit through the transformative ritual of tattooing. Over the course of the journey, he travels to Germany, Canada, Japan, Kenya and throughout the United States, transforming his experiences into art.
Fox's directorial debut critically examines cultural assumptions about sex, gender and sexuality. The film won the Special Jury Prize at the Arizona International Film Festival in 2012 and was the Juror's Pick at the Victoria International Film Festival in 2013.
The screening will take place at the Los Angeles Film Forum on Sunday, October 6 at 7:30 p.m. in the Spielberg Theater. Composer Ronit Kirchman will perform a live electronic remix set of the film's score in advance of the showing at 7 p.m. Following the film, Fox and Kirchman will be in attendance for a Q&A. Tickets are $10 general, $6 for students and seniors, and free for Film Forum members. Tickets are available in advance at Brown Paper Tickets or at the door.
Fox is an associate professor of art history and the visual arts, teaching courses in film and video production; narrative theory and screenwriting; documentary history and production; cinema aesthetics; and representations of body, illness, dying, and gender in media. His narrative, experimental and documentary works have been screened internationally at festivals worldwide. His critical writing has appeared in various anthologies and journals. His book Documentary Media: History – Theory – Practice is available through Pearson Press. A graduate of Harvard University, he received his M.F.A. and Ph.D. from USC.
--Madi Tsuji '14