Submitted by kwall_admin on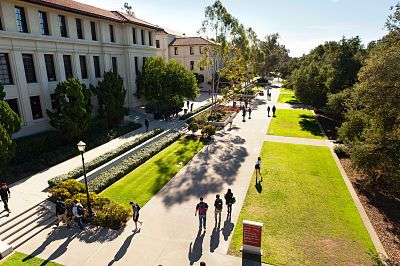 Whether it's producing global scholars, Ph.Ds, or Latino graduates, the numbers are clear: Occidental College is one of the best in the country.
Occidental is one of the leading producers of Fulbright Scholars and of graduates who go on to earn Ph.Ds (particularly in the sciences), and has done more to close the gap in Latino graduation rates than any other top-ranked liberal arts college.
"Many college rankings focus on inputs such as test scores and grades, and pay less attention to what happens after students enroll," says Jorge Gonzalez, vice president for academic affairs and dean of the college. "These new numbers clearly demonstrate the remarkable power of an Oxy liberal arts education."
Occidental's nine 2012-13 Fulbright winners rank the College seventh among all liberal arts colleges, according to the Institute of International Education, which administers the Fulbright program for the U.S. Department of State. (It was an Oxy grad, Kenneth Holland '29, who helped set up the Fulbright program while serving with the State Department in the wake of World War II.)
The nine scholars – who are now studying and teaching in Australia, Austria, Colombia, Finland, Mexico, South Korea, Taiwan, Thailand, and Turkey -- are among 51 Oxy students and alumni who have won Fulbrights since 2003.
Oxy also is one of the country's leading producers of students who go on to earn doctoral degrees, according to 2001-2010 data from the National Science Foundation. Occidental is No. 19 overall among top-ranked liberal arts colleges, and No. 47 among all American colleges and universities.
Oxy shows particular strength in the sciences, ranking No. 11 in Ph.Ds in the physical sciences, No. 16 in life sciences and No. 21 in geosciences among top-ranked liberal arts colleges. It is ranked 24th in producing doctoral students in the humanities and 28th in the social sciences among top-ranked liberal arts colleges.
A new study from The Education Trust shows that Oxy has dramatically improved its graduation rate for Latino students and virtually eliminated the gap between graduation rates for Latino and white students.
From 2004 to 2010, the six-year Latino graduation rate at Oxy increased 24.3 percent, as compared to an average 3.5 percent increase nationwide. Oxy had the country's fourth-highest increase among private colleges and universities, according to the study.
Over the same period, the gap between white and Latino graduation rates at Oxy dropped 14.3 percent as compared to a national average of just 1.4 percent. That result places Oxy seventh among private colleges and universities nationwide.