Submitted by kwall_admin on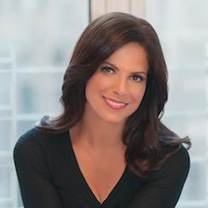 Broadcast journalist Soledad O'Brien will visit the Occidental campus on Thursday, October 15 with "I Am Latino in America," a national tour of conversations aimed at amplifying the Latino voice on critical community issues.
O'Brien will be joined by a panel of local thought leaders for the event, including U.S. Rep. Loretta Sanchez (D-CA); actor Cristela Alonzo; Julissa Arce, co-founder and chair of the Ascend Educational Fund; writer-director Rick Najera; Monica Lozano, publisher and CEO of La Opinion; producer, writer and director Jeff Valdez; and Taboo of the Black Eyed Peas. The conversation will take place at 7:30 p.m. in Thorne Hall and will be free and open to the public.
"Occidental has a long tradition of educational excellence on issues of race, class and the Latino experience," O'Brien says. "It is a perfect place to bring our conversation on being Latino in America, and I am looking forward to speaking with and hearing from its impressive faculty and student body."
"The College is proud to host this event on campus as part of a national conversation about the Latino voice in America," says Ella Turenne, assistant dean for community engagement at Occidental. "Given our location and our commitment to community engagement, it is an important opportunity to bring people together from all over the city to talk about critical issues and celebrate the vibrant community we live in."
The tour kicks off September 28 at Florida International University and will continue on to five more cities. Additional tours are planned for the spring and summer of 2016, with more than 15 cities expected to host the live event.
O'Brien is a former CNN and NBC anchor and author. She previously hosted two "Black in America" tours that highlighted issues such as police brutality and civil rights. The "I Am Latino in America" tour will address such issues as voting, the economy and education.
Influential celebrities, national and local advocates, business leaders, students and academics will join O'Brien along the tour. "Latinos are 54 million strong, make up a quarter of the children in this country, and include 25 million voters with $1.5 trillion in buying power," O'Brien says. "Our tour will empower the U.S. Hispanic community's collective voice in a crucial election year."
The tour's stop at Occidental is being sponsored by the Remsen Bird Fund, with support from other College departments. National presenting sponsor for the tour is Northwestern Mutual, joined by sponsors Macy's and Southwest Airlines.